Frankie Otero
Jump to navigation
Jump to search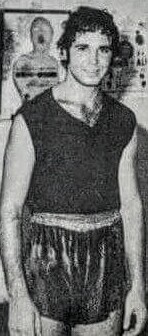 Name: Frankie Otero
Alias: Cuban Bomber
Hometown: Hialeah, Florida, USA
Birthplace: Havana, Cuba
Died: 2020-12-18 (Age:72)
Stance: Orthodox
Pro Boxer: Record
Amateur Boxer: Record


Biography
Cuban-born Frankie Otero was rated Number 1 in the Jr. Lightweight Division by The Ring magazine in 1971.
While a student at Miami-Dade Community College, Otero racked up an undefeated record of 18-0, with 17 knockouts. A clever boxer-puncher, Otero was one of Chris Dundee's main event fighters from the fabled Fifth Street Gym, a local hero with a gate following.
Otero and his family fled Cuba to escape Fidel Castro's revolution. Frankie, his parents Francisco and Yolanda, and his brother Alejandro, moved to Hialeah, Florida. As a youth, Frankie Otero's idol was Cuban boxing star Luis Rodriguez. At the age of 17, Otero began training under Richard Riesgo at the famed Fifth Street Gym. Frankie boxed as an amateur for a year and won the local Golden Gloves title in the novice division.
Otero turned professional at 18 years old. He soon racked up an impressive knockout streak which made him the toast of the Cuban exile community in South Florida.
His best performances were wins over contenders Love Allotey, Alberto Perez, Kenny Weldon and Jimmy Trosclair.
In 1973, Otero took his 42-2-1 record into a scheduled 10 rounder with former World Lightweight Champion Ken Buchanan. The fight was so hyped on Miami Beach, that matchmaker Chris Dundee held it at the Miami Beach Convention Center. Thousands of fans saw a fast paced and exciting 10 round slugfest. Otero gave a gutsy showing, but was clearly out-boxed by the faster Buchanan.
Otero was knocked out by Buchanan in a rematch and also by future world champion Alfredo Escalera.
Otero retired from fighting to work as a real estate appraiser and sales agent, but remained involved in the sport as a matchmaker, having worked in promotions featuring Aaron Pryor, Davey Moore, Roberto Duran and Thomas Hearns. He also managed several boxers, including Braulio Santiesteban and Nestor Pinango.
The last time Frankie Otero stepped into the ring was an exhibition bout with Raul Hernandez during the early 1980s at the 8th Street Festival in Miami, Florida.
Otero was inducted into the Florida Boxing Hall of Fame in 2010.