Harold Smith (Promoter)
Jump to navigation
Jump to search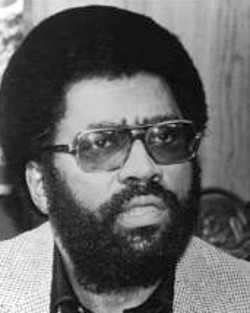 Name: Harold Smith
Birth Name: Ross Eugene Fields
Hometown: Los Angeles, California, USA
Birthplace: Birmingham, Alabama, USA
Promoter: Record

Harold Smith was born Eugene Ross Fields in 1943 in Jefferson County, Alabama. He legally changed his name to Harold Rossfields Smith in 1981.
After receiving an academic dismissal from American University in his junior year, he turned to promotion and opened a nightclub in Washington, D.C., called the Sammy Davis Jr. Discotheque. William Rowe, who was a press agent for Davis, said, "Ross was a fan, a persistent-type fan who just loved Sammy Davis to death." He continued: "He was asking if Sammy's name could be used and he'd be a partner. Sammy said he was an entertainer and wasn't interested. There was nothing to it, we weren't signing any papers or anything. Six or seven months later, the landlord called to see if Sammy was really involved. It had to do with non-payment of the rent or something, and that was the end of that. Fields was tossing his name around like they were bosom buddies."
The nightclub failed after 15 months, and Fields began writing bad checks, according to the Montgomery County, Maryland, police department. In 1972, there were nine cases involving Fields in the Montgomery County District Court. In 1973, he was arrested and found guilty of false pretenses in a check violation and was given an 18-month suspended sentence and three years' probation.
In 1973 and 1974, Fields and his wife may have scattered "over 100 bad checks in 31 states," according to F.B.I. files. By 1977, when Fields obtained a passport under the name Harold James Smith, he had changed his appearance and had persuaded Muhammad Ali to lend his name to Muhammad Ali Amateur Sports (MAAS), which put on track meets in California and organized an amateur boxing team.
Muhammad Ali Professional Sports (MAPS) was formed when Smith decided to get into boxing promotion. Ali was to be paid 25 percent of any profits from a MAPS show or $10,000, whichever was larger, for the use of his name. He did not participate in the management or control of either MAAS or MAPS.
The first show promoted by MAPS was on May 25, 1979, in Santa Monica, California. In the main event, Andy Price knocked out Vicente Hernandez in four rounds. Within another year, Smith was threatening to take over the sport. Because he offered much bigger purses than anyone else, Smith attracted some of the biggest names in boxing, such as Thomas Hearns, Pipino Cuevas, Aaron Pryor, Antonio Cervantes, Matthew Saad Muhammad and Eddie Mustafa Muhammad.
The gross receipts for nearly all of Smith's shows were far less than the expenditures. Many wondered where MAPS was getting its money. When asked, Smith said he and his wife put up some of the money, and wealthy friends put up the rest. But he never said where he and his wife acquired their wealth or who their wealthy friends were.
Wells Fargo National Bank filed a civil suit against Smith in January 1981, alleging that he had embezzled more than $21 million. He disappeared shortly afterward. He told his friends later that he had hidden in Los Angeles, Aspen, Vancouver and Lake Tahoe. Saying that his life was in danger and that he feared his 4-year-old son might be kidnapped, Smith emerged in March to plead his innocence on television.
Smith was arrested by Federal agents minutes after he gave a deposition to Wells Fargo attorneys in April. He faced criminal charges of filing a false statement in an application for a Federal passport in 1977, of unlawful flight to avoid prosecution in North Carolina and of forgery, fraud and writing bad checks in Maryland, North Carolina, Alabama and the District of Columbia.
His true identity was made public following his arrest. Rock Newman, who hosted a radio show in Washington, D.C., at the time and would later manage Riddick Bowe, said: "We knew Fields and Smith were the same guy two years ago. A guy recognized him and called us, but there didn't seem to be any reason to make a big deal out of it. Not just anybody would recognize Fields. He use to be really slender, a dapper sort of Southern gentleman. A nice guy, really well known. Harold Smith is about 50 to 60 pounds heavier, with a full beard, jeans and a cowboy hat."
In July 1981, a federal grand jury returned a 32-count felony indictment against Smith, charging him with conspiring to defraud the Wells Fargo National Bank of more than $21 million. The indictment was a result of a six-month investigation by the Federal Bureau of Investigation. Two former bank employees, Lloyd Benjamin Lewis, an assistant operations manager, and Sammie Marshall, a loan officer, were also indicted. Ali was not implicated in Smith's business dealings or in the Wells Fargo fraud case.
Smith was convicted of 29 counts of fraud and embezzlement in 1982 and sentenced to 10 years in prison.
Paroled in 1988, Smith was soon back in boxing. He had a brief affiliation with Roy Jones Jr. and advised Larry Holmes and Thomas Hearns.
External Links