Javontae Starks
Jump to navigation
Jump to search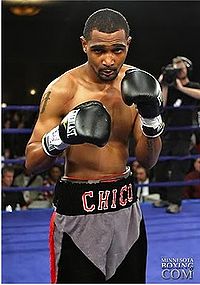 Name: Javontae Starks
Hometown: Minneapolis, Minnesota, USA
Birthplace: Minneapolis, Minnesota, USA
Stance: Orthodox
Height: 183cm
Reach: 192cm
Pro Boxer: Record
Amateur Boxer: Record


Starks often wears the nickname "Chico" on the front of his trunks to pay respect to his favorite fighter Diego Corrales.
Amateur Career
Amateur Record: 98-16
2002 State Silver Gloves Champion
2003 Ohio State Champion
2003 Regional Silver Gloves Champion
2003 Ringside World Champion
2003-2005 State JO champion
2003 and 2005 Regional JO Champion
2006 Region I Golden Gloves Champion
2006 Silver Medalist in the Under 19 Tournament
2007 Finalist Ringside World Tournament
2008 State USA champion
2008 Upper Midwest Golden Gloves Champion
2008 Future Stars national Champion
2009 Upper Midwest Golden Gloves Champion
Shooting
In 2007, Starks was shot during an altercation at a graduation party. The gunshot wound to his thigh, which nicked a major artery, nearly caused him to bleed to death and was seen by many as the death blow to his career. Doctors doubted whether Javontae would ever even have full use of his left leg again. [1]