Jim (Slim) Robinson
Jump to navigation
Jump to search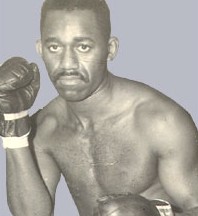 Name: Jim Robinson
Alias: Slim
Birth Name: Richard Robinson
Hometown: Philadelphia, Pennsylvania, USA
Birthplace: USA
Died: 2004-11-05 (Age:74)
Stance: Orthodox
Height: 188cm
Pro Boxer: Record
Amateur Boxer: Record

Photo 2
Jim (Slim) Robinson was born September 9, 1930, in Philadelphia, Pennsylvania.
Robinson boxed professionally as a middleweight and light heavyweight. George Benton, Von Clay and Bob Foster were among the boxers he faced. Robinson also served as a sparring partner for Sonny Liston.
After he retired as a boxer, Robinson became a trainer. He trained Mike Rossman, Tim Witherspoon, Eddie Mustafa Muhammad, Ricky Parkey, Alfonzo Ratliff, Azumah Nelson, and many others.
Robinson once worked as a bounty hunter. "I chased criminals all over the country," he told writer Tom Archdeacon in 1984. "Caught some, had to shoot some others. Went after everyone from thugs on the street to big narcotics dealers. That's why I still carry the .45 . . . just in case."
Robinson died on November 5, 2004.
Jim (Slim) Robinson should not be confused with "Sweet" Jimmy Robinson, a Missouri light heavyweight who fought mostly in Florida and lost to Muhammad Ali, then Cassius Clay, in 1961.
External Links