Jimmy Clark (of Jamestown, NY)
Jump to navigation
Jump to search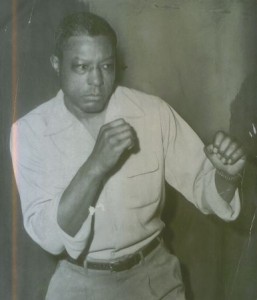 Name: Jimmy Clark
Alias: Copper Express, Jimtown Express
Birth Name: James Clark Atkinson
Hometown: Jamestown, New York, USA
Birthplace: Norfolk, Virginia, USA
Died: 1994-09-12 (Age:80)
Stance: Orthodox
Pro Boxer: Record
Amateur Boxer: Record


Biography
James G. Jimmy Clark born in Norfolk, Va., setted in Jamestown, New York. He was nicknamed the Cooper Express and the Jimtown Express.
As an amateur Clark piled up 23 titles, winning tournaments in Pittsburgh and St. Louis, as well as local bouts at the Washington Street Auditorium in Jamestown and Celoron Park. He fought for the American AAU team in Paris, France in 1935, winning all three of his matches. He was the US amateur welterweight champ, the New York State middleweight champion, and defended his Golden Gloves title eight times.
Jimmy earned a spot on the 1936 United States Olympic boxing team as a middleweight by scoring five knockouts in the national trials tournament.
U.S. officials and the media both cried foul about the loss by a black fighter, during the Olympics supposedly controlled by Hitler. It just wasn't to be Clark said in a 1956 interview. They robbed me in the Olympics and the records prove it, and I was rushed too fast as a pro.
A complete job of jobbing by the boxing officials a Detroit newspaper wrote at the time.
During those 1936 Games - forever made famous when sprinter Jessie Owens spoiled Hitler's Olympics with four gold medals - Clark decided one day he wanted to greet Hitler.
As he made his way toward Hitler's viewing stand atop the stadium, his presence didn't go unnoticed. He got within a less than comfortable distance for Hitler, when Jimmy was surrounded by what he described as Brown Shirts, who quickly escorted him back to where the other American athletes were seated.
Turning pro after the Olympics, Jimmy launched a successful career. He was a clever boxer, who relied on bobbing and weaving and powerful left and right hooks. Among his victims was eventual middleweight champion Tony Zale, whom he knocked out in 1938. He was managed by Marshall Miles, who also managed Joe Louis.
His legacy on the fight game was not forgotten. In 1983, he was inducted into the Chautauqua County Sports Hall of Fame.

Written & Submitted by Dan Muscato Buffalo, NY.
From Bob Caico- http://www.chautauquasportshalloffame.org/jimmyclark.php

1935 won the National AAU at welterweight vs. Sweeney Byers.
1936 scored five straight one round knock outs to win the National AAU at middleweight, although this is not clear as he has been reported as scoring five straight knock outs to qualify for the Olympics.
---
Olympic games results
1936 (as a middleweight)
---