Joe Louis vs. Abe Simon (2nd meeting)
Jump to navigation
Jump to search
Challenger rankings
Last Rankings
NBA
6
03.01.1942
Next-To-Last Rankings
NBA
5
09.09.1941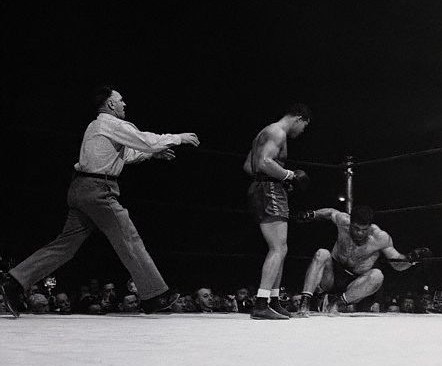 Joe Louis 207 lbs beat Abe Simon 255 lbs by TKO at 0:16 in round 6 of 15
Date: 1942-03-27
Location: Madison Square Garden, New York, New York, USA
Referee: Eddie Joseph
Notes
Bout announced on February 26.[1]
Louis was a 15-1 betting favorite.
There was a crowd of 18,220.
The gross gate was $132,420, and the net was $114,705.
The fight raised $64,980.02 for the Army Emergency Relief Fund. Louis donated his entire purse of $36,146. Promoter Mike Jacobs and Madison Square Garden contributed $25,131.85, and Simon gave $3,012.17.
Simon was floored late in rounds two and five, and he was saved by the bell each time. Simon was dropped again early in the sixth round and counted out by referee Eddie Joseph. Simon protested the stoppage, insisting he was up at the count of nine.
This was Louis' first professional fight without trainer Jack Blackburn, who was hospitalized in Chicago. Blackburn would die the following month.
Due to his Army service during World War II, Louis wouldn't defend his title again for four years and three months.
External Links