Johnny Tapia vs. Paulie Ayala (1st meeting)
Jump to navigation
Jump to search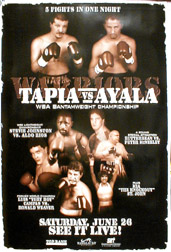 Date: 1999-06-26
Location: Mandalay Bay Resort & Casino, Las Vegas, Nevada, USA
Referee: Joe Cortez
Judge: Guy Jutras 115-114

1
2
3
4
5
6
7
8
9
10
11
12
 

Judge: Duane Ford 116-113

1
2
3
4
5
6
7
8
9
10
11
12
 

Judge: Fernando Viso 116-113

1
2
3
4
5
6
7
8
9
10
11
12
 
--- 1999 Ring Magazine Fight of the Year ---
Notes
Johnny Tapia 46-0-2 (25 KOs) vs. Paulie Ayala 27-1 (12 KOs)
It was the first loss of Tapia's professional career.
As the fighters were being announced, Tapia walked across the ring and shoved Ayala causing a momentary skirmish.
Among those in attendance were Oscar De La Hoya, Bobby Czyz, Emanuel Steward, and Ferdie Pacheco.
Through three rounds both Pacheco and Czyz had the bout scored 57-57.
Neither man appeared to be hurt or in danger of being knocked down in the bout.
Bout Summary
In the opening round, Tapia moved around the ring worked with a jab and jumped in quickly with straight punches and an occasional hook to the body. Ayala pursued his opponent, looked to get on the inside and work to the body. Both fighters were warned early in the second round for failing to break when told to do so. Ayala came on in Round 2 catching Tapia with power shots upstairs and to the body as the two mostly traded in close. Tapia had his moments as well landing cleanly with solid shots but less frequently that his opponent. Ayala continued to rip big shots to the body in Round 3 as Tapia looked to return to fighting on the outside. A cuffing shot to the back of the head pulled Tapia down at 1:17 of the round. It was ruled to be a slip. Tapia worked well in the opening half of Round 4 with increased movement and digging shots to the body. Ayala came on in the second half as both men traded punches. The two twice banged heads in Round 4, with neither man being cut. The close middle rounds saw each man have his moments as Tapia had better success when moving and Ayala looked solid on the inside. In the final thirty second of Round 8, both men frequently raised their hands to the crowd between exchanges. Tapia likely took Round 9 outworking Ayala and landing with the straight right hand. Tapia went to the mat at 2:46 of the round from a slip. Action was paused early in Round 10 as a clash of heads opened a cut on the top of Tapia's head. They continued to trade into Rounds 11 and 12, with Tapia working more consistently and Ayala working in bursts.
See Also