Julio Cesar Chavez Jr.
Jump to navigation
Jump to search
Name: Julio Cesar Chavez Jr
Alias: JC Jr.
Birth Name: Julio César Chávez Carrasco
Hometown: Culiacan, Sinaloa, Mexico
Birthplace: Culiacan, Sinaloa, Mexico
Stance: Orthodox
Height: 183cm
Reach: 185cm
Promoter: Record
Pro Boxer: Record

Trainers: Romulo Quirarte, Freddie Roach (2010- )
Manager: Rodolfo Chavez
Promoter: Top Rank


Biography
Julio César Chávez Carrasco was born on February 16th, 1986, to legendary boxing champion Julio Cesar Chavez and then-wife Amalia Carrasco. At the time, his father had already won fifty professional fights and had three successful defenses of his WBC super featherweight title.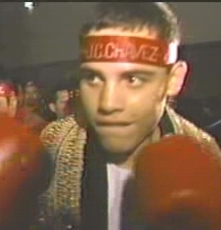 Chávez Jr. made his pro boxing debut in September of 2003 against Jonathan Hernandez. He won by a decision, but it was a disappointment not to get the knockout victory. Two months later he made up for it by knocking out Eugene Johnson in the just a minute and a half on the undercard of his father's rematch with Willy Wise. Also on the undercard, younger brother Omar Chavez made his amateur debut in an exhibition bout.
Julito's next three bouts he also won by decision, but since then he has won all but one by knockout. In May of 2004, he once again scored a first round knockout on the undercard of his father's "Farewell to Mexico" fight against Frankie Randall. Junior has also appeared three times on the undercards of Erik Morales fights and has fought on Telefutura's Solo Boxeo.
Career Factoids
Has a record of 4-1-0 (2 KOs) in world title fights.
Has a record of 3-2-1 (1 KOs) against former world titleists.
Failed Drug Tests
On February 28th, 2013, Chavez Jr. was suspended for nine months and fined $900,000 (30 percent of his purse) by the Nevada State Athletic Commission for testing positive for marijuana following his loss to champion Sergio Gabriel Martinez in Las Vegas. It was the second failed test for Chavez Jr., who in 2009 tested positive for a banned diuretic following his bout with Troy Rowland. For that he was fined 10 percent of his purse and suspended for seven months.[1]
Titles Held
World Boxing Council Middleweight Title (2011-2012)
WBC Silver Middleweight Title (2010-11)
WBC Latino Light Middleweight Title (2009)
WBC Continental Americas Light Middleweight Title (2008)
WBC Youth World Light Middleweight Title (2006)
WBC Continental Americas Super Middleweight Title (2014)