Ken Norton vs. Duane Bobick
Jump to navigation
Jump to search
Ken Norton 223 lbs beat Duane Bobick 215 lbs by TKO at 0:58 in round 1 of 12
Notes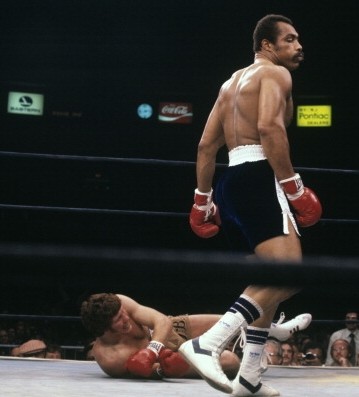 Norton's purse was $500,000 and Bobick's was $300,000.
Norton was an 11-5 betting favorite.
From Sports Illustrated:
Against the inexperienced Bobick, Norton was a raging torrent. Bobick's best weapon is unending pressure; he plods in close and stays there, banging away relentlessly until the other man falls, usually from exhaustion. So Norton came out sideways, like a crab, expecting to meet the oncoming Bobick with a hook and an uppercut. Only Bobick never came.
"I'm always a slow starter," Bobick sighed later. "I guess I started even slower than usual."
Surprised, Norton moved in, probing with a right to the body. He watched Bobick's eyes. When they moved to follow the course of the body punch, Norton unleashed a seemingly wild overhand right. It only seemed wild; it is one of the big punches in Norton's repertoire. It thundered against the side of Bobick's head, sending him reeling backward. A savage when the fight is going his way, Norton stormed in after his stunned opponent.
He smashed a left hook and a right to the body; another right speared the head. Then Norton drove a right uppercut against Bobick's Adam's apple. Gagging, his eyes tearing so that he had difficulty seeing, Bobick staggered back toward his corner.
Going full bore, Norton rained overhand rights to Bobick's head. Barely conscious, Bobick fell. Struggling, he forced himself upward, sagged for a moment, then, as the count got to nine, he lurched to his feet. His mouthpiece was more out than in. His eyes were squinted, almost closed. After studying the hurt fighter carefully, Referee Petey Delia started to wave Norton in. Bobick staggered and almost fell again. That's when Delia wrapped his arms around him and said. "The fight is over, son."
"I'm all right," Bobick protested, his voice a painful croak.
"No," Delia said, "it's over."
Articles