Lew Jenkins
Jump to navigation
Jump to search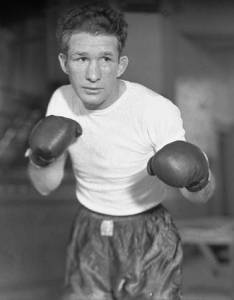 Name: Lew Jenkins
Alias: Sweetwater Swatter
Birth Name: Verlin E. Jenkins
Hometown: Sweetwater, Texas, USA
Birthplace: Milburn, Texas, USA
Died: 1981-10-30 (Age:64)
Stance: Orthodox
Height: 173cm
Reach: 173cm
Pro Boxer: Record


Career Summary
Lew Jenkins was a vicious puncher, despite his lanky build. He began his boxing career in carnivals. After winning the World Lightweight Title with a knockout over Lou Ambers, Jenkins's life outside of the ring spun out of control. He drank excessively, stayed up all night, and spent money on fast cars and motorcycles--wrecking several of them and injuring himself in the process. Jenkins eventually lost his title on a 15-round decision to Sammy Angott, then he went on a long losing streak and fell completely out of the ranks of the world's top lightweights.
Jenkins served in the United States Coast Guard during World War Two, participating in troop deployment, and in the thick of several enemy fires during the Allied invasions of North Africa and Europe. (He had been a member of the American troop D-Day invasion.)
He attempted a comeback after WWII, but was unable to regain his status as a top lightweight and welterweight. He retired from boxing in 1950.
While serving in the U.S. Army's Second Infantry Division during the Korean War, he was awarded several medals (including the Silver Star) after saving the lives of fellow soldiers from enemy fire.
Jenkins died October 30, 1981 in Oakland, CA, USA. He is buried in Arlington National Cemetery.
In 2003, he was declared one of The Ring magazine's 100 Greatest Punchers of all time.
Unconfirmed bouts, circa 1937
Rodolfo Ramirez
Jimmy Maddox
External Links
Arlington National Cemetery Site [1]