Charley Rose
Jump to navigation
Jump to search
Boxer - Manager - Promoter - Trainer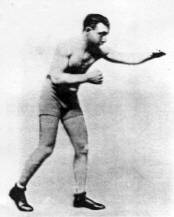 "Broadway" Charley Rose
Born: 1886-03-04
Died: 1974-??-??
Age: 88

Charley Rose prided himself on the fact that he was born on the same day the Statue of Liberty was dedicated. Although his boxing career is little known, apparently he had a respectable featherweight record in the early 1900s. He reportedly was the first boxer to enlist for the United States in World War I. He served with the First Division of the American Expeditiary Forces (AEF) for 20 months, and saw action at Verdun, France, capturing several German soldiers.
He was dubbed "Broadway" Charley by Dan Parker because he was credited with being the first person to take boxing's management-promotion out of the saloons to the "big street" at Broadway and 49th, renting an office with Jack Curley.
He was involved with the careers of some 82 boxers--including Max Schmeling, Freddie Welsh, Al Roth, Cocoa Kid, Charley Burley, Johnny Rosner, Jimmy Goodrich, Mike McTigue, Paul Berlenbach, Willie Jackson, Holman Williams, Harry Wills, Fred Fulton, Jack Renault, Carl Morris, Lew Jenkins, Soldier Bartfield, Harry Stone, Bartley Madden, Young Montreal, Sailor Darden, Clem Johnson and Bill Hood.
He died in 1974 in his New York hotel room, from inhalation of smoke of a fire he had accidentally set while smoking a cigar.
Rose's "All-Time Greatest" lists are frequently cited to this day. (He considered Jim Jeffries the greatest heavyweight of all time, after "Studying strength, ability, punching power, stamina to fight hard all the way by the end of the 25th round.")

Sources:
The Ring, March 1975, p. 72
Ty Cobb Article of May 28, 1944