Matthew Saad Muhammad vs. Yaqui Lopez (1st meeting)
Jump to navigation
Jump to search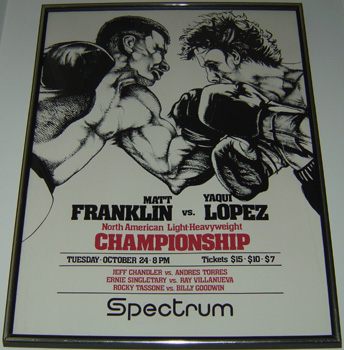 Date: 1978-10-24
Location: Spectrum, Philadelphia, Pennsylvania, USA
Referee: Frank Cappuccino
Bout Summary
Matthew Franklin (Matthew Saad Muhammad) scored an 11th round TKO over Alvaro "Yaqui" Lopez Tuesday night to retain his NABF light heavyweight title. Franklin clinched the victory with a right hand punch that landed on Lopez' left eye, drenching the fighter's face with blood. As soon as the punch landed, referee Frank Cappuccino waved his arms to signal the end of the bout at 2:59. Lopez was the aggressor in the 1st round, but Franklin held him off with rapid-fire jabs. Franklin led out in the second. But a left hook that completely spun Lopez around led Franklin into a premature celebration and gave Lopez time to recover. Lopez sprained his right ankle in that exchange, but took the fight to Franklin in the 4th. In the 11th, Franklin cut Lopez' eye open and that was when the fight was called. (From The Associated Press).
Post-Fight Quotes
"My pre-fight plan was to cut Lopez up. I worked my jab good. I was using three or four in a row," - Matthew Franklin (Matthew Saad Muhammad) said.
"I figured I would go to the body about the third or fourth. But really I waited too long to get started," - Yaqui Lopez said.
See Also