Oakland Billy Harms
Jump to navigation
Jump to search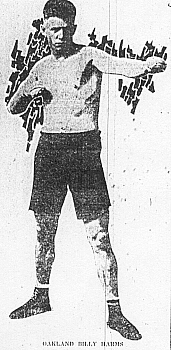 Name: Oakland Billy Harms
Hometown: Everett, Washington, USA
Birthplace: Johannesburg, Gauteng, South Africa
Pro Boxer: Record

Division: Middleweight
Managers: Cliff Summerlin, Pete Moe, Kelly Kent
Exact date of birth unknown. Reported to have been 24-years-old by the March 22, 1927 Portland Oregonian newspaper (Portland, OR, USA).
Harms's history is given on pages 234-235 of Chris Greyvenstein's book, THE FIGHTERS. He was a sailor, per Greyvenstein's book. Harms reportedly had fights in the United States, Australia, and South Africa. According to Greyvenstein's book, Harms also had fights in Mexico, Wales, England, India, New Zealand and Canada.
Nicknamed "Oakland Billy Harms" -- likely due to his long residence on the West Coast of the United States, and his early American bouts in the Bay Area.
Some 1922 editions of the Everett Daily Herald (Everett, WA, USA) newspaper identify Harms as being British, and/or from South Africa. His hometown was usually given as Everett, Washington by local newspapers during his residence in the Pacific Northwest of the United States.
According to a March 1927 Portland Oregonian newspaper article, regarding Harms's upcoming bout with Tiger Thomas, Harms's manager at this time was Kelly Kent.
He is not to be confused with another Billy Harms boxer of the time and area.