St. Nicholas Arena
Jump to navigation
Jump to search
Manhattan, NY, USA
The St. Nicholas Arena was located at 69 West 66th Street, on the northeast corner of 66th Street & Columbus Avenue, Manhattan. "St. Nick's" opened Nov. 7, 1896, exclusively as an ice hockey and ice-skating rink until 1906, when it began to offer boxing under the "membership club" pretense. At this time public admission prize-fighting was illegal under New York State law until 1911, when the Frawley Law made such boxing legal, so boxers were introduced as "members" of the St. Nicholas club. With a capacity of some 4,000, it presented Monday, Wednesday and/or Saturday night shows, depending upon the era.
It was known as The Rink by the "old-timers." IBRO Journal Issue No. 77, p. 117. (Another retrospective of this venue was published in IBRO Journal Issue No. 97, pp. 100-101.)
During the 1910s, St. Nick's chief rival was Madison Square Garden. Jess McMahon and his brother Eddie were its managers, promoters and matchmakers early that decade.
In April 1914 Billy Gibson took over its lease to present weekly Saturday night shows under the auspices of his new Stadium Athletic Club. His first show was actually held Friday, April 24. Later Bill Johnston was one of its more famous promoters, for about 25 years, along with his matchmaking brother James J. Johnston (Jimmy Johnston). However, it appears that Gibson was involved with St. Nick's since as early as August 1913. El Paso Herald [1] British-born Jimmy Johnston renamed the club Royal Windsor during World War II; the club later was briefly renamed the London Sporting Club. Other promoters during the club's last 30 years included Mike Jacobs, Marty Cohen, Dan Caplin, Hymie Caplin, Johnny Attell, Tex Sullivan, Teddy Brenner, and Irving Cohen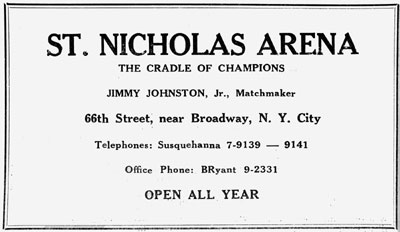 Joe Silver was the manager for its final 32 years. Johnny Addie was an announcer here from 1948-1962.
St Nick's remained a boxing venue from 1906 until May 28, 1962--the last main event. Upon its demise, it was reported that more than 30,000 fights had been staged here. (Others estimate 10,000, to 15,000, to 20,000.) As of 2011, it was the site of ABC Television Studios.
Factoids
Promoter Teddy Brenner estimated that the 4,100 fans who attended the 1958 Jose Torres-Burke Emery bout was the largest St. Nick's crowd in its history.
Only one title bout was ever held at this venue: the Oct. 17, 1938 Joey Archibald-Mike Belloise NYSAC World Featherweight match.
Five people had St. Nicholas "ring-deaths" during its 56-year history: former World Lightweight Champion Benny Leonard, after officiating the first five bouts of the April 18, 1947 card, collapsed while refereeing the sixth bout and died of coronary thrombosis; Laverne Roach and Sonny Boy West sustained brain injuries which resulted in their deaths; Tommy Pacheco and Jose Regores also sustained fatal ring injuries.
Arena suspended operations for one month, approx. April-May, 1927. Re-opened May 23, 1927 with five bouts. Matchmakers at the time were Billy McCormick & Eddie McMahon.
New York Times Jan. 9, 1952--OLD BOXING CENTER ON WEST SIDE SOLD; St. Nicholas Arena Bought by Webb & Knapp; May Be Used for TV Sports Spectacles: "St. Nicholas Arena, the old boxing center on the West Side of Manhattan, where many fistic champions got their start, has changed hands in a realty deal that also may mark a change in the character of the entertainment offered there."
Dumont television network had a steady following, it broadcasted Monday night fights live from 1954 until 1956 to New York, Pittsburgh, Chicago and to other major cities in USA.
Reprints of newspaper articles on the history and demise of this venue can be found in IBRO Journal Issue No. 77, pp. 112-120; and IBRO Journal Issue No. 97, pp. 100-101.
Ledger sheet for its final program.