Tommy O'Keefe
Jump to navigation
Jump to search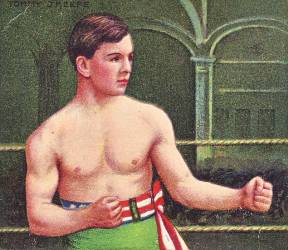 Name: Tommy O'Keefe
Alias: Thomas Francis Crilly
Hometown: Philadelphia, Pennsylvania, USA
Birthplace: Philadelphia, Pennsylvania, USA
Pro Boxer: Record



O'Keefe started boxing at age 10 with older kids in his neighborhood of Fifth & Carpenter. At age 14, walked to the old Lyceum Theater, Eighth & Vine, to start his ring career as an amateur. He took on the name O'Keefe early on. He became a protege of Jack Blackburn, trainer for heavyweight champion Joe Louis. Johnny Loftus seconded for O'Keefe when he would fight in Reading. He boxed as a bantam, feather, and lightweight. He retired in 1918 after losing to Willie Jackson.
After he retired, O'Keefe became a Pennsylvania Commission boxing referee in 1925. He lived in both Philadelphia, and at 909 Church Lane, Yeadon, PA. He was married and had two daughters: Rose & Catherine.
---
Virtually all of the BoxRec Fight Record is courtesy of Paul Zabala & Luckett Davis of the International Boxing Research Organization (IBRO), IBRO Journal Issue No. 76, Dec. 20, 2002, pp. 52-53. See also IBRO Journal Issue No. 79, p. 72.
The image above is from a Mecca cigarette card, owned by Luckett Davis