Víctor Emilio Galíndez
Jump to navigation
Jump to search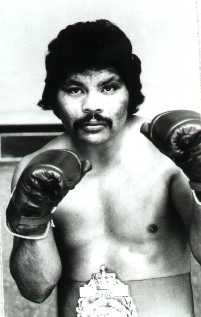 Name: Victor Galindez
Alias: El Leopardo de Moron
Hometown: Moron, Buenos Aires, Argentina
Birthplace: Vedia, Buenos Aires, Argentina
Died: 1980-10-26 (Age:31)
Stance: Orthodox
Height: 177cm
Reach: 184cm
Pro Boxer: Record
Amateur Boxer: Record


Amateur Career
Light Middleweight Silver Medalist at the 1967 Pan American Games in Winnipeg, Canada. Lost to Rolando Garbey of Cuba in the final by a second-round knockout.
Represented Argentina as a light middleweight at the 1968 Olympics in Mexico City, Mexico. Lost to Aldo Bentini of Italy on points (0-5) in the round of 16.
Pro Career
Won the Argentine and South American light heavyweight titles in 1972.
Defeated Len Hutchins by a 12th-round RTD to win the vacant WBA light heavyweight title on December 7, 1974, in Buenos Aires, Argentina.
On May 28, 1977 Galindez was scheduled to defend his title in South Africa against former light heavyweight champ Bob Foster. However, as a provision for CBS televising the bout, Foster was under contract to submit to a medical examination supervised by a boxing commission from Nevada, California or New York. Foster refused and the bout - for which he was set to receive $70,000 - was cancelled on April 22. Foster's manager, Billy Edwards, claimed that he cancelled the bout because Foster wasn't in shape and that his training had not developed as planned.
Lost the WBA light heavyweight title to Mike Rossman by a 13th-round TKO on September 15, 1978, in New Orleans, Louisiana.
Scheduled to face Mike Rossman in a rematch for the WBA light heavyweight title in Las Vegas, Nevada, on February 24, 1979, but the fight was cancelled shortly before fight time because of a dispute over the judges. Galindez had asked that the WBA appoint two judges and one local judge, but the Nevada State Athletic Commission, maintaining it had the right to name all three judges, appointed officials from Nevada. Promoter Bob Arum negotiated with both sides in an attempt to put the fight on as scheduled, but he was unsuccessful. The commission refused to back down, and Galindez refused to fight.
Defeated Mike Rossman by a ninth-round RTD to regain the WBA light heavyweight title on April 14, 1979, in New Orleans, Louisiana.
Lost the WBA light heavyweight title to Marvin Johnson by an 11th-round KO on November 30, 1979, in New Orleans, Louisiana.
Announced his retirement from boxing on August 21, 1980, following surgery to repair detached retinas in both eyes.
Has defeated 9 opponents (4 by KO) for the World Light Heavyweight Title.
Retired with a record of 12-2 (4 KOs) in world title fights.
Retired with a record of 2-2 (1 KO) against future and current world champions.
Inducted into the International Boxing Hall of Fame in 2002.
Ranked as the 11th greatest light heavyweight of all-time by The Ring in 2002.
Death
After retiring from boxing, Galindez decided to pursue a career as a race car driver. His first race was Argentina's Turismo Carretera on October 26, 1980. Galindez's car broke down near the end of the first lap. As he and his co-driver, Nito Lizeviche, were walking back to the pits, a car driven by Marcial Feijoo went out of control, spun off the track and slammed into them. Galindez and Lizeviche were killed instantly. Feijoo, whose car was demolished, was seriously hurt and taken to a hospital. His co-driver, Juan Buesolo, was treated for shock.