Yama Bahama
Jump to navigation
Jump to search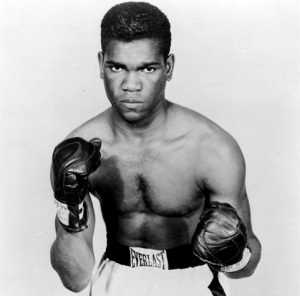 Name: Yama Bahama
Birth Name: William Horatio Butler Jr.
Hometown: Bimini, Bahamas
Birthplace: Bimini, Bahamas
Died: 2009-06-29 (Age:76)
Height: 175cm
Pro Boxer: Record

Manager: Sam Snead (1954)
Biography by Dan Cuoco (IBRO Director)
Yama Bahama was born William Horatio Butler, Jr. on February 16, 1933 in Bimini in the Bahamas. He was the youngest in a large family consisting of three sisters and four brothers. His father was a first mate on a cargo ship that operated between Bimini and Miami Beach.
At the age of six he began to participate in Battle Royals. Battle Royals consist of six or more boys fighting blindfolded, and the last one standing is declared the winner. At the age of 12 he started to tag along after his brothers Herman and Louis when they went to the local gym to train. Although both were top-notch amateurs neither turned professional. The Butler boys were fight fans and hooked up a short wave set so they could listen to the boxing broadcasts from the United States. Yama always wanted to be a boxer. When he was old enough, he joined the boys club where he began his formal fistic education.
When Yama turned 20 he moved to Florida and started training at the Miami Beach Gym. When he was ready to turn pro his manager George Lyon decided he needed a unique ring name. Lee Evans a reporter on the Miami Herald was also trying to think up a catchy ring name when he happened to glance at Lyon's boat which was named "Bahama Mama". The idea came to him to put the last name first and to change the first letter of the new first name M to Y. And that's how William H. Butler, Jr. became "Yama Bahama."
Yama made his pro debut on November 17, 1953 in Miami Beach with a first round technical knockout over Harry Irwin. He went undefeated in his first fourteen bouts, with only two draws blemishing his perfect record, before losing a six round decision to Jimmy Ford. Yama then shifted his base of operations to Detroit, Michigan where he became a big fan favorite because of his aggressive style and pleasing personality. After winning three fights in a row, he was dropped for the first time in his career and suffered a first round kayo loss to Bob Hoffman. This was the only clean knockout defeat he was to suffer in 89 professional fights.
Showing no ill effects from the knockout loss, Yama won 19 of his next 21 fights over good competition. During that stretch he defeated Battling Douglas (for the welterweight championship of the Bahamas), Mickey Savage, Jimmy Ford (avenging two earlier losses), Hector Peralta, Gene Parker, and Howard Calloway. His stirring knockout victory over Gene Parker convinced his manager that he was ready to step up in competition.
Up until then Yama's biggest victory was winning the welterweight championship of the Bahamas by stopping Battling Douglas in seven rounds. The win over Douglas was the first time Yama had fought before his hometown in two years. Yama didn't disappoint as he dropped the defending champion six times in registering the technical knockout.
Yama made his national TV debut on December 26, 1955 as a last minute substitute for Chico Vejar by pitching a shutout over crafty veteran Paolo Melis. He proved himself to be a shifty well-conditioned fighter, with fast hands and the ability to land an assortment of combinations.
After defeating Melis, Yama rattled off five more impressive wins to run his winning streak to 23 with victories over Leffie Walker, Carlo Sarlo (avenging an earlier defeat), Jimmy Ford (this time by technical knockout), Hardy Smallman and Philadelphia's flashy Gil Turner. The veteran Pat Lowry ended Yama's winning streak with a bizarre upset decision in Saginaw, Michigan. When the fight ended Yama was announced as the victor which did not sit well with the crowd. A half hour after the decision was announced, the commission representative on the scene said that one of the judges scorecard revealed an error and the decision was reversed in Lowry's favor.
Yama finished the year out by destroying tough Tex Gonzalez in three rounds at Madison Square Garden and outpointing veteran Jimmy Martinez in Cleveland.
Stepping up in class, Yama had mixed results in 1957 winning three of six fights, losing decisions to highly ranked Isaac Logart, former victim Gil Turner and Arthur King. The loss to Turner was by split decision. Turner was taken to the hospital after the fight due to severe swelling from a broken blood vessel from temple to temple. One of his three victories, however, was over the very capable veteran campaigner Del Flanagan.
In 1958 Yama fought seven times, winning six. His biggest victories were over former welterweight champion Kid Gavilan and perennial contender Joe Miceli. His victory over Gavilan elevated him to his first international ranking as the number nine middleweight in the world.
During the next two years he went to the post thirteen times, winning eleven. His only defeats were by decision to Victor Zalazar (hotly disputed) and former welterweight champion Luis Rodriquez. He avenged his defeat to Zalazar by handling him quite handily in their rematch. He also won a unanimous decision over Phil Moyer in Phil's hometown of Portland, Oregon.
1961 was a big year for Yama. He started off the year with a disputed majority draw to Detroit's Ted Wright at Madison Square Garden. Yama set a steady pace and seemed to have the fight well in hand. The referee had Yama ahead, but the two judges had the fight a draw.
Yama then reeled off five consecutive victories, the biggest being a unanimous decision over highly ranked middleweight contender Joey Giambra. The victory over Giambra and his later victory over Jose Gonzalez elevated him to the seventh spot among the top ten middleweights in the world rankings.
In July he met welterweight champion Emile Griffith in a non-title fight and lost a clear-cut decision. After the fight, many thought that Yama was now past his prime. But once again he fooled the critics. He ran off four consecutive victories and shocked the fight world with his complete domination of highly touted Argentine middleweight champion Farid Salim at Madison Square Garden in New York to finish the year.
After his victory over Salim, Yama started 1962 off impressively. He met Don Carrano on January 9th in Bimini and dropped him fourteen times en route to a seventh round technical knockout. Four months later he met Luis Rodriquez in a return bout. Yama received a deep cut on his forehead from an accidental butt. The blood dripped into his right eye. In the third round, Luis landed a searing right alongside Yama's left eye, which opened another deep cut. The ringside physician stopped the fight and Yama was declared loser by technical knockout.
Yama only fought three times after the Rodriquez fight, winning all three. He had his last professional fight on March 6, 1963, appropriately in Bimini. His opponent was Harry Monroe and Yama ended his career as he had started - by technical knockout.
Yama Bahama was a durable, willing mixer who was able to shift his style to offset his opponents. His aggressive style and personality made him a big fan favorite with fans both at home and in the arenas of Miami, Detroit and New York. Yama was also a big fan favorite nationally because of his numerous television appearances and the class he exhibited in every fight.
Bahama was inducted into the Florida Boxing Hall of Fame in 2010.