Barry Michael
Jump to navigation
Jump to search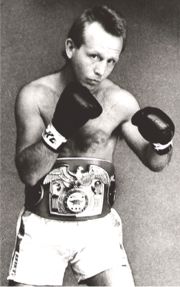 Name: Barry Michael
Birth Name: Barry Michael Swettenham
Hometown: Melbourne, Victoria, Australia
Birthplace: Watford, Hertfordshire, United Kingdom
Stance: Orthodox
Height: 168cm
Reach: 168cm
Matchmaker: Record
Promoter: Record
Pro Boxer: Record
Amateur Boxer: Record


Barry Michael was born in England. His family migrated to Australia in 1957.
Barry Michael won the IBF super featherweight title on 12 July, 1985 over Lester Ellis. Gus Mercurio was the referee for the Lester Ellis vs. Barry Michael super-fight "Barry Michael kept talking to Lester," he said. "He talked him out of the fight. He'd say, come on old man, is that as hard as you can hit. You can hit harder than that?. Then he would say, You can't take that one huh? You didn't like it? I'll give you another one."
Another of Barry's earlier fights, with Al "Earthquake" Carter in September 1981 in Melbourne saw Mercurio in the middle. "Barry threw "Earthquake" a kiss before the fight," he said. ""Earthquake" came out and hit Barry with a shot in the shoulder, which turned Barry white. It was a hell of a fight. Barry could get under a fighter's skin. He would talk his way through a fight. He deserved a lightweight title fight two or three years before he got one. People were ducking him. The American matchmaker Don Elbaum came out to watch Michael. No one would fight him though. He was going to fight Ray Mancini at one stage and they knocked him back. He was too tough. Barry was a real tough "son of a gun".
The 30 year-old then made his first defense three months later on 19th October 1985 with a 4th round TKO win over Korean Jin-Shik Choi at the Darwin Oval in the Northern Territory. 25 year-old Choi had a record of 17-1 (15) going into the fight and had won eight straight. Interestingly, Jin-Shik Choi's only loss going into the fight was to Rod Sequenan (Ellis's first defense), two years earlier by 12th round knockout
Reference Sources