David Reid
Jump to navigation
Jump to search
Name: David Reid
Alias: American Dream
Hometown: Philadelphia, Pennsylvania, USA
Birthplace: Philadelphia, Pennsylvania, USA
Height: 175cm
Pro Boxer: Record
Amateur Boxer: Record

Manager: Mat Tinley
Trainer: Al Mitchell, Fred Jenkins

David Reid had a stellar amateur boxing career, culminating with a Gold Medal at the 1996 Summer Olympics in Atlanta, Georgia. Like Oscar De La Hoya four years before, Reid was the only Olympic Gold Medalist in boxing for the United States, so comparisons by writers and critics to De La Hoya were practically inevitable. De La Hoya's nickname is "The Golden Boy": Reid was dubbed "The American Dream." However, it could be said that Reid's professional career more resembled that of former WBA Light Middleweight Champion Davey Moore.
Reid began his professional career, with much attention from boxing magazines, when he defeated Sam Calderon on March 21, 1997 by a unanimous four-round decision in Atlantic City, New Jersey.
He followed his debut victory with four knockout wins in a row before meeting former World Welterweight Champion Jorge Vaca on October 3, also at Atlantic City. He knocked Vaca out in the first round.
His next bout, against Dan Conolly, was showcased on HBO, and it was also covered, round by round, by The Ring magazine. Reid earned his sixth victory in a row, knocking out Conolly (who was described by The Ring as a "game opponent") in five rounds.
On January 31, 1998, Reid fought Robert Frazier. He dropped Frazier in the first round, and despite losing a point in round six due to what the referee thought was dirty tactics, Reid went on to beat Frazier by an eight-round unanimous decision.
After two more wins, he fought in his hometown of Philadelphia, taking on former World Welterweight Champion Simon Brown on June 27. Reid won by a knockout in four rounds. On October 24, he claimed his first belt, defeating James Coker by a twelve-round unanimous decision to win the WBC Continental Americas Light Middleweight Title.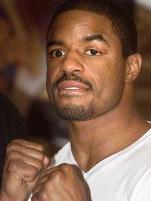 After that victory, he was deemed ready for a world title try by his management team, and so, on March 6, 1999, Reid became a world champion in only his twelfth professional bout, beating WBA Light Middleweight Champion Laurent Boudouani by a twelve-round unanimous decision in Atlantic City. Not many boxers have won a world title after such few fights. One who did was Davey Moore, who won the WBA Light Middleweight Title in his ninth professional fight.
Reid made two successful title defenses, decisioning Kevin Kelly on July 16 and then outpointing Keith Mullings on August 28.
By then, Reid had already made Las Vegas his new home. There was much talk about matching him against a number of name opponents, including Roy Jones Jr., Bernard Hopkins, Joe Calzaghe, Oscar De La Hoya and Felix Trinidad.
On March 3, 2000, he defended his crown against Trinidad in Las Vegas. Reid did well over the first six rounds, even dropping Trinidad in the third, but Trinidad took control in the second half. Reid was dropped in round seven and three more times in round eleven, before losing the world title by a twelve-round unanimous decision.
After the Trinidad fight, Reid was diagnosed with a detached retina, which wasn't his first eye injury. His left eyelid was injured by a punch from Daniel Santos in the light middleweight final of the 1995 Pan American Games. The muscle lost its elasticity, making it sag. Doctors estimated that he would have about a year before the eyelid hindered his sight enough to make boxing too dangerous.
Many fans questioned the decision of Reid's management to let him defend his title against a veteran like Trinidad in only his fifteenth professional bout, a fact that reminded many of Davey Moore, who defended the same WBA Light Middleweight Title in only his thirteenth bout against the far more experienced Roberto Duran in 1983. Others defended the decision, saying that Reid had a limited window of opportunity because of his sagging eyelid, and winning an Olympic Gold Medal allowed him to be marketed well and moved quickly.
Many critics say that the reason for Reid's downfall after his defeat to Trinidad was psychological, but the fact is that his damaged eye affected him for the rest of his short career.
After facing some law trouble, he returned to the ring. He won three fights against insignificant opposition, then was knocked out in nine rounds by Sam Hill on November 11, 2001 at the Belterra Casino in southeast Indiana. It was his last fight.
Reid had a professional record of 17 wins and two losses, with 7 wins by knockout.
Amateur Highlights
1993 National Golden Gloves Welterweight Champion
1994 United States Amateur Welterweight Champion
1994 Goodwill Games participant at Welterweight, in St. Petersburg, Russia
1995 Pan American Games Gold medalist at Welterweight, in Mar del Plata, Argentina
1996 United States Amateur Light Middleweight Champion
1996 US Olympic Trials & Olympic Box-Offs Winner at Light middleweight
1996 Light Middleweight Gold Medalist for the U.S. at the 1996 Olympics in Atlanta, United States.
Source
"David Reid's American Nightmare" by Tim Graham, March 8, 2004