Dick Donald
Jump to navigation
Jump to search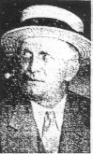 Name: Dick Donald
Alias: Silent Dick
Birth Name: Richard Donald
Hometown: Los Angeles, California, USA
Referee: Record


Biography
Known as "the man with the [expensive] cigar," straw hat, and glib tongue, Richard (Dick) Donald promoted some of Southern California's biggest fights in the mid-1920s. Born in New York, Donald attended college at Oregon Agricultural College (now Oregon State University). Donald was the school's mascot, "Jimmie the Coyote." During his time in Oregon he became involved in managing Vancouver, Washington boxer Bud Anderson. Donald took Anderson to Los Angeles in 1912, where Anderson achieved some success and became a main event fighter.
Jack Doyle, famous for his promotions at the Vernon Arena, helped Donald get into the boxing promotion business. Donald staged shows in the Venice beach community during the middle 1910s, and at the Lyceum on Spring Street in downtown Los Angeles on Saturdays beginning in the early 1920s. The Lyceum operated on a small scale, compared to the bigger Vernon Arena and the Hollywood Legion Stadium. On March 12, 1918, Donald was named the referee of the Vernon Athletic Club, California. [1]
After he quit promoting boxing shows at the Lyceum, Donald started promoting shows at Ascot Park--the second of four auto racing tracks which operated under that name in the Los Angeles area. He had his first outdoor show in 1925 with a program featuring Ace Hudkins vs. Tommy O'Brien, and Sammy Mandell vs. Phil Salvadore. The gate receipts were about $55,000, and attendance 28,000. After that successful show, he promoted the flyweight title bout between Frankie Genaro and Fidel LaBarba. (LaBarba won the World Flyweight Title, according to the California State Athletic Commission, but--because he was a minor--LaBarba was not so recognized by the New York State Athletic Commission.) Donald's shows hurt the gates and attendance at the Vernon Arena and the Olympic Auditorium. He was using boxers the matchmakers at both southern Los Angeles venues needed to draw big crowds.
But Donald wasn't making much money himself with his Ascot Park promotions, which led him in early 1927 to seek permission to stage shows at Wrigley Field, Los Angeles's new baseball park and home to the Pacific Coast League teams Los Angeles Angels and Hollywood Stars. Although he faced opposition from neighborhood citizens and some city officials, Donald was persuasive and eventually got the authority to stage shows every other week. This apparently upset Jack Doyle, Donald's old mentor, who was promoting weekly shows at the nearby Olympic Auditorium. Doyle would have difficulty drawing large crowds for the remainder of the year.
Donald didn't do too well at Wrigley Field, at first. There were relatively few fighters who could draw sufficiently large crowds at this large open-air venue. Then, on July 25, he presented the historic Ace Hudkins-Sergeant Sammy Baker bout, which broke all California gate-receipt records up to that time, estimated to be about $93,000 from some 30,000 fans. Later that year, after Donald was unable to come up with Joe Dundee's guarantee the night of a scheduled fight with Hudkins, the welterweight champion refused to enter the ring. Wrigley Field became a shambles as thousands of fans rioted and stormed the box office trying to get ticket refunds. This fiasco ended Donald's promotional career. He later became a matchmaker at the Olympic Auditorium for a few months in 1935. His "final coup" occurred April 17, 1939 at Wrigley Field, when he steered his client Jack Roper to a title bout with Joe Louis, which brought in more than 21,000 fans and $87,000 in gate receipts.
Donald died September 4, 1953, of a heart ailment at Queens of Angels Hospital, Los Angeles, after suffering a stroke August 26. He was 64. He left behind his widow Frankie; a son, Richard, Jr.; and two grandchildren, Richard III (age 9) and Linda (5). Edwards Bros. of Colonial Mortuary handled the funeral details.
Sources:
External Link
Donald's Promotional Record