Ibn Ali
Jump to navigation
Jump to search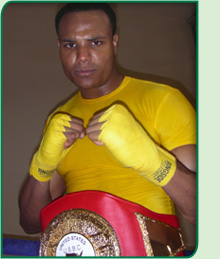 Name: Ibn Ali
Hometown: Louisville, Kentucky, USA
Pro Boxer: Record


Son of former heavyweight boxer Rahman Ali, nephew of three-time World Heavyweight Champion Muhammad Ali, and cousin of former WBC Female Super Middleweight Champion Laila Ali.
Turned professional without any amateur experience.
Won the United States Boxing Council cruiserweight title with a sixth-round knockout of Jeff Fox on April 15, 2006.