Rahman Ali
Jump to navigation
Jump to search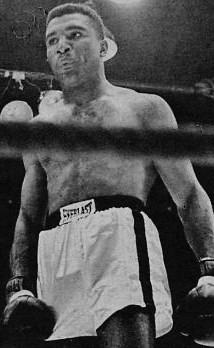 Name: Rahman Ali
Birth Name: Rudy Clay
Hometown: Louisville, Kentucky, USA
Pro Boxer: Record
Amateur Boxer: Record

Rahman Ali Gallery
Rahman Ali is the brother of three-time World Heavyweight Champion Muhammad Ali, the uncle of former WBC Female Super Middleweight Champion Laila Ali, and the father of former USBC Cruiserweight Champion Ibn Ali.
Rahman's date of birth has been incorrectly listed as July 18, 1940. He is the younger brother of Muhammad Ali, who was born January 17, 1942. Some sources say Rahman was born on July 18, 1943, and others say he was born in 1944.
Some sources say Rahman was named Rudolph Arnette Clay at birth, while others say he was named Rudolph Valentino Clay. According to Sports Illustrated, he was named Rudolph Arnette Clay, but his father "belatedly rechristened him Rudolph Valentino Clay." When he converted to Islam, he was given the name Rahman Ali by Nation of Islam leader Elijah Muhammad.
He lost to Danny McAlinden by a six-round decision on March 8, 1971. It was his first pro defeat. On the same card, his brother also suffered his first pro defeat, losing to Joe Frazier by a fifteen-round decision.
His last win was a fourth-round knockout of Joe Byrd on December 16, 1971. Byrd is the father of former WBO and IBF Heavyweight Champion Chris Byrd.
His last fight was an eighth-round knockout loss to Jack O'Halloran on September 13, 1972. O'Halloran is best known for portraying Non, the mute Kryptonian supervillain, in the first two Superman movies.
External Links