Ismael Laguna
Jump to navigation
Jump to search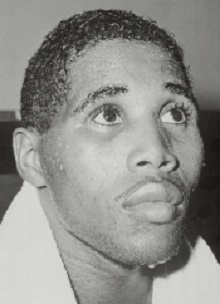 Name: Ismael Laguna
Alias: El Tigre Colonense
Birth Name: Ismael Laguna Meneses
Hometown: Colon City, Panama
Birthplace: Colon City, Panama
Stance: Orthodox
Height: 175cm
Reach: 173cm
Promoter: Record
Pro Boxer: Record


Biography
Ismael Laguna, one of a family of nine, was born in a fishing village called Santa Isabel, near Colon, Panama on 28 June 1943. Colon was a busy port at the Caribbean end of the Panama Canal.
Like many others from poor backgrounds, Laguna scraped a living as a boy by shining shoes and selling newspapers. He soon learned to fight for his pitch, and then turned to boxing at the age 12 or 13 when he found the National Champion, Carlos Watson, offering to spar with anyone on the beach. Laguna volunteered and opened a cut which was still healing from Watson's last fight. Afterwards, Watson's trainer, Chino Amon, asked the youngster if he would like to learn the art properly.
Amon talked to Laguna's parents and persuaded them that it was better for their son to spend his time in a boxing gym than on the streets.
Laguna fought just half a dozen times as an amateur before turning professional under manager Isaac Kretch at the age of 17. In his debut, he scored a second round knockout of Al Morgan in Colon in January 1961. Later that month, he outpointed Eduardo Frutos for his second pro fight.
In March 1961, Laguna scored a points win over Javier Valle for victory number three. He then had a tight squeeze in fight number four, his first six rounder, when he edged home on a split decision against a flyweight named Carlos Real.
At the time, Carlos Guevala was promoting weekly shows at the National Gymnasium in Panama City and Laguna enjoyed a spell as a regular there, developing into a useful prospect. In April 1961, Laguna stopped Jose Pacheco in three rounds and outpointed Ernest Campbell over six rounds. While history will never regard these wins as watersheds of his career, they were vital moments in the youngster's education. They also allowed him to develop both his reputation and a good following among the demanding Panamanian fans who had spent years watching talented prospects come and go.
After a seven round knockout of a dangerous Jamaican, Killer Solomon, Laguna made his breakthrough into the big time when he outpointed the Cuban Bantamweight Champion Enrique Hitchman, which drew rave reviews. One called him the best Panamanian fighter since Al Brown.
After making his overseas debut with a 10 round points win over Castor Castillo in Venezuela, Laguna came through a scare when Nelson Estrada dropped him with a right hand in Panama City in April 1962. He took an eight count, got up and had Estrada helpless when the referee stopped it in round seven.
By mid 1962, Laguna had risen to 5th in The Ring ratings and the Panamanian Boxing Commission set a precedent by declaring that he would be recognised as the National Bantamweight Champion without having to prove it in an actual championship fight. Laguna had already beaten the previous title holder, Hector Hicks, in five rounds. Hicks retired and left the title vacant. The decision was said to be well received.
In September 1962, Laguna stopped the reigning Panamanian Featherweight Champion Pedro "Kid Manhattan" Ortiz in seven rounds. In all, there were 27 consecutive wins in Laguna's teenage years, culminating in a third round knockout of Fili Nava in Panama City in May 1963. His first defeat came in his last fight before his 20th birthday, when his management team risked a trip to the Colombian capital, Bogata, against Antonio Mochila Herrera. The young Panamanian lost on points over 10 rounds.
Herrera was persuaded to accept a rematch in Panama City in September 1963, and Laguna knocked him out in the seventh round. He then ended the year in Paris, winning his European debut with a 10 round decision over the Nigerian Joe Rafiu King. In his previous bout, King had lost a 15 round verdict to World Champion Sugar Ramos. On the strength of this result, the British paper Boxing News installed Laguna as the number one challenger to Ramos.
However, a shot at the 126 lbs belt never materialised. After a decision in Paris over the French based Cuban Angel Robinson Garcia, who he was to rate as the best opponent of his career, Laguna took on the aggressive southpaw Vicente Saldivar in the Mexican border town of Tijuana in June 1964. With hindsight, it was a foolish move on the part of Laguna's management. Their policy had been to stay busy and take on the best. Saldivar and Laguna were two of the best featherweight prospects for years, and their meeting was effectively a final eliminator for the world title. Not surprisingly, the verdict at the end of the ten rounds went to Saldivar, who went on to dethrone Ramos in his next fight.
Laguna's response was to move up to the lightweight class. At 5ft 9in, he was certainly tall enough for the 135 lbs division. He coped well and the progression was natural. After an eight round win over Kid Anahuac in his American debut in July 1964, Laguna returned to Panama to wait for a shot at the World Lightweight Title. By this time, his popularity at home was secure and three wins persuaded the local promoters to make an attempt to bring the World Champion, Carlos Ortiz, to Panama City.
The fight was originally set for March, but was delayed due to Ortiz being ill. It eventually took place in April 1965, and Panama was to welcome its first World Champion since the great Panama Al Brown in the 1920s. Ortiz was outclassed by Laguna in a close fight, which was full of fiery exchanges. At the final bell, Laguna was crowned the World Lightweight Champion at the age of 21.
Titles
Panamanian Featherweight Champion (1962-63)
World Lightweight Champion (1965)
World Lightweight Champion (1970)
Laguna was stripped of the WBC title prior to losing the WBA title to Ken Buchanan for allegedly refusing to honor an agreement to fight Mando Ramos or another "suitable opponent" in Los Angeles on September 15 1970.
Laguna also lost 15 round decisions in two other bids to regain the World Lightweight Championship in 1967 against Carlos Ortiz and in 1971 to Ken Buchanan.
Other Honours