Ken Norton vs. Scott LeDoux
Jump to navigation
Jump to search
Ken Norton 224 lbs drew with Scott LeDoux 218 lbs by SD in round 10 of 10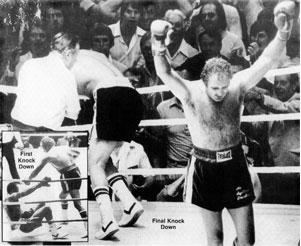 Notes
Norton vs. LeDoux was televised live on NBC.
Each fighter had lost his previous bout. LeDoux lost to Ron Lyle by a 10-round split decision, and Norton was stopped in one round by Earnie Shavers.
LeDoux was at his peak period for this bout, which was 1976-80. Norton was past his prime. Norton's peak was 1973-78.
Norton took a thumb in the eye during the eighth round which immediately changed the bout. Norton had trouble seeing for the rest of the fight as LeDoux rallied (LeDoux started landing more blows and soon after Norton became fatigued as a result).
Norton discussed in his autobiography, Going the Distance, that he should have put more effort into training for this bout.
This was the only draw of Norton's career and the fourth draw for LeDoux. One previous draw for LeDoux was against former Olympic Gold Medalist Leon Spinks in October 1977. Four months later, Spinks defeated Muhammad Ali to win the World Heavyweight Championship.
Norton announced his retirement following the death of his manager, Bob Biron, in September, saying, "I can't go on without Bob." Norton returned to the ring in 1980. "I wasn't happy with the way I retired," he said. Norton retired for good after getting knocked out in one round by Gerry Cooney in 1981.
In his next fight, LeDoux lost to USBA heavyweight titlist Mike Weaver by a 12-round decision. After outpointing the undefeated Marty Monroe, LeDoux got a title shot against WBC heavyweight champion Larry Holmes in 1980. Holmes stopped LeDoux in seven rounds.
Common Opponents
Duane Bobick:
LeDoux fought Bobick twice, losing by a 10-round decision in 1976 and getting stopped in eight rounds in 1977. Norton stopped the undefeated Bobick in one round in 1977.
Larry Holmes:
Holmes defeated Norton by a 15-round split decision in 1978 to win the WBC heavyweight title and stopped LeDoux in seven rounds in 1980.
Larry Middleton:
Both fought Middleton in 1976. LeDoux beat Middleton by a 10-round decision, and Norton stopped him in 10 rounds.
Ron Stander:
LeDoux beat Stander by a 10-round decision in 1975, and Norton stopped him in five rounds in 1976.
---
Norton, LeDoux battle to a draw
BLOOMINGTON, Minn. (AP) — Ken Norton's boxing career appeared at an end when Scott LeDoux rocked him twice in the final three rounds of a 10-round bout at the Met Sports Center Sunday.
But Norton, who is trying to reclaim his national ranking as a boxer, escaped with a controversial split decision draw in the nationally televised fight. LeDoux, fighting in his home state, felt he had a knockout.
"I thought he was done," said LeDoux, who floored Norton in both the ninth and 10th rounds. "Even if it wasn't over, he was done. I think we just retired him."
Norton disagreed, however, saying he was looking forward to a return fight.
"I think a rematch would be advantageous to both of us," said the boxer-actor. "To a certain extent, the draw hurts, but it also is fuel for a rematch.
"I felt I won every round up until the eighth round. But yes, I think it was very obvious that in the last round I was in a little trouble."
LeDoux took left jabs from Norton consistently for seven rounds, but said he was never hurt.
"If their guy could punch, I would have been out of there because I took a couple of clean punches. But I didn't take any bombs. I was never in trouble." LeDoux also said that part of his fight plan was to let Norton wear himself down in the early rounds and then strike back.
"For the first seven rounds, we thought it over and said, 'Let's just keep it close. If he gets in trouble, try and take him out. If not, box with him.' Then in the eighth and ninth, I tried to undress him, set him up for the bomb," explained LeDoux.
LeDoux, 25-7-4, scored with a solid right in the ninth, sending Norton reeling against the ropes, and landed another right at the bell.
LeDoux knocked Norton down early in the 10th, and left-right combinations staggered the former World Boxing Council champion, 41-6-1, with less than 30 seconds left in the fight.
Referee Wally Holm scored the fight 95-94 in favor of LeDoux, with judge Denny Nelson giving Norton the edge 96-94. Judge Leroy Benson called it even at 95-95. The Associated Press gave five rounds to Norton and three to LeDoux, with two even.
Norton, whose boxing career probably would have ended with a loss to the lesser-known LeDoux, pinned the Crosby, Minn., native against the ropes for much of the first seven rounds.
A solid left near the end of the third round hurt LeDoux, and Norton also had his opponent in trouble at the end of the fifth when he connected with a left-right combination.
Norton, who collected $250,000 to LeDoux s $50,000 for the fight, also carried the seventh round quite easily, but LeDoux thrilled the home-state crowd with his comeback in the final rounds.
A brief flurry by LeDoux at the start of the eighth brought the partisan crowd to its feet. Norton, who had lost his last two fights, took a thumb in his left eye and had trouble seeing for the rest of the fight.
Newspaper/Magazine Articles