Laszlo Papp
Jump to navigation
Jump to search
Name: Laszlo Papp
Alias: Laci Papp
Birth Name: László Papp
Hometown: Budapest, Hungary
Birthplace: Budapest, Hungary
Died: 2003-10-16 (Age:77)
Stance: Southpaw
Height: 165cm
Pro Boxer: Record
Amateur Boxer: Record

Laszlo Papp Gallery
Amateur Career
Amateur Record: 301 wins, 12 losses, and 6 draws. Papp scored 55 first-round knockouts.
1946, 1947, and 1954 Hungarian Middleweight Champion.
1952, 1953, 1955, and 1956 Hungarian Light Middleweight Champion.
1949 European Middleweight Champion in Oslo, Norway.
1951 European Light Middleweight Champion in Milan, Italy.
1948 Olympic Gold Medalist at middleweight in London, England.
1952 Olympic Gold Medalist at light middleweight in Helsinki, Finland.
1956 Olympic Gold Medalist at light middleweight in Melbourne, Australia.
Olympic Results:
1948 London, England
1952 Helsinki, Finland
1956 Melbourne, Australia
Professional Career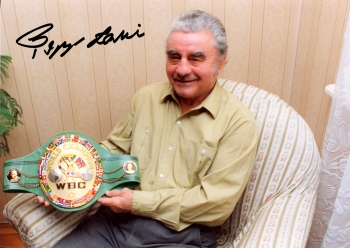 Although professional boxing was outlawed in Hungary, Papp was allowed to turn professional in 1957.
He set up camp in Vienna, Austria, although he occasionally had to go to Paris to find sparring partners.
Papp was a skilful southpaw and a hard puncher, but he was dogged by brittle bones and hand injuries, which periodically kept him out of the ring.
He won the European Middleweight Championship in 1962 and made six successful title defenses.
Papp was on the verge of a title shot against World Middleweight Champion Joey Giardello when the Hungarian government revoked his permit to travel abroad in 1965, thus ending his pro career. He had a professional record of 27-0-2 with 15 knockouts.
"I was one step away from a world title shot but it would have meant going to America and my government didn't approve," Papp said in an interview after the fall of communism in Hungary in 1989. "I think it was just jealousy. I was earning more money than most of them. There was a lot of antagonism."
Honors
External Links