Marco Antonio Barrera
Jump to navigation
Jump to search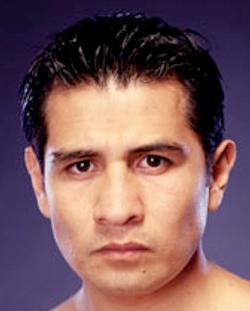 Name: Marco Antonio Barrera
Alias: Baby Faced Assassin
Birth Name: Marco Antonio Barrera Tapia
Hometown: Guadalajara, Jalisco, Mexico
Birthplace: Mexico City, Distrito Federal, Mexico
Stance: Orthodox
Height: 168cm
Reach: 178cm
Pro Boxer: Record


Marco Barrera is considered to be one of the best fighters of this era, and one of the best Mexican boxers in history. He is a three weight division champion, and beat his share of great opponents. His amateur record was 56-4 and he was a five-time Mexican national champion.
Barrera turned professional at the age of 15, and had his first fight in Mexico City. He quickly moved up the ranks and began boxing in the United States, initially, at the Great Western Forum in Inglewood, California. It is here where Barrera made a name for himself as a ferocious and hungry fighter.
His first major fight was against Daniel Jimenez for the WBO 122-lb. title. Barrera won a 12-round decision. Barrera then made a string of defenses before engaging in a fight with Olympic Gold Medalist Kennedy McKinney. It was HBO's first-ever installment of HBO Boxing After Dark, and a very thrilling one at that, as both fighters put up a great fight. Barrera knocked down McKinney five times, though he was down once himself, and ended up stopping the game McKinney in the 12th round.
Later that same year (1996) Barrera fought former bantamweight champion Junior Jones, entering the bout as a big favorite coming in, with expectations being that of an easy night for Barrera. Barrera was surprisingly KO'd in the fifth round by Jones, although the official result is a loss by DQ because his cornermen came into the ring. Barrera also lost a rematch to Jones on points in April 1997.
It wasn't until February 2000 that Barrera would again be in a major fight, this time coming against undefeated Erik Morales. Morales entered the bout with a 35-0 record at the time, and was favored to win, as many people felt Barrera was shot. However, Barrera fought a game fight, and most people felt he was robbed of a decision to Morales.
Barrera would end up getting his big moment of glory against Naseem Hamed. Hamed was 35-0, with 31 KOs, and at that time was in many people's Top 5 Pound-for-Pound list. Although many within the boxing fraternity were expecting Barrera's aggressive style to play into the hands of the hard-hitting Hamed, Barrera had undergone a stylistic reformation, which had gone by unnoticed by most observers, starting with an impressive victory over Hawaiian Jesus Salud. Barrera had been working hard to improve his boxing skills, and thus added an extra dimension to his already formidable repertoire of talents. Using a stiff jab and smooth lateral movement, Hamed was thoroughly outboxed by Barrera, and never gave the hard-hitting Englishman the openings he needed to land his biggest punches. This victory made Barrera a superstar, as he received praise and accolades for his decisive victory over Hamed. Barrera went on to fight Enrique Sanchez, who had beaten him once in the amateurs, and stopped him in the mid-rounds. The stage was then set for Morales-Barrera 2.
Fans had been eagerly waiting for the two to fight again, after their thrilling battle in 2000. Barrera won the rematch by slim margins, some fans feeling that Morales had won the fight. Barrera went on to beat Johnny Tapia and Kevin Kelley, and then fought the dangerous Manny Pacquiao. Pacquiao KO'd Barrera in eleven rounds in a one-sided bout in which Barrera hit the canvas twice, before his cornermen jumped in the ring and saved him from further punishment. Barrera then beat Paulie Ayala, before signing to fight Erik Morales in a rubber match.
Nobody in the boxing world had wanted to see Morales-Barrera at this point in time. The second Morales-Barrera fight was seen as dull, and many considered Barrera to be shot, due to his one-sided defeat at the hands of Pacquiao. Morales chose to fight Barrera, because he thought it would be an easy fight, and a big pay day. Morales had stated in interviews before the fight that only the first few rounds of the fight would be difficult, and after that he would handle Barrera with ease. Barrera surprised the whole boxing world when the two finally met for the third time, by pounding out a clear-cut victory, by beating Morales to the punch, and scoring with big combinations, which swelled Erik's face badly. The third Barrera-Morales fight was the first fight in the trilogy where fans generally agreed with the outcome.
Following the Morales victory Barrera defeated WBC number-one contender Mzonke Fana, and then defeated a former sparring partner, Robbie Peden.
On May 20, 2006 Barrera defended his WBC super featherweight title, with a narrow split decision victory over Rocky Juarez in a fight in which Barrera was pushed hard by the younger man's power and strength on the inside. The verdict was considered controversial, in part due to the closeness of the bout, and also due the fight being originally declared a draw. The decision was later awarded to Barrera when an error in the tally of the judges scores was discovered by the commission after the fight. A rematch took place on the 16th of September of the same year, which Barrera won via unanimous decision. Barrera chose to utilise a stick-and-move policy, which left Juarez neutralised on the outside, and unable to get off with the combinations that had pushed Barrera hard in their previous encounter. The result was an uninspired, but clear victory, which left many in the crowd displeased at the lack of action. The win however once again demonstrated the versatility of Barrera, which had become a trademark over the later stages of his career as opposed to the take-no-prisoners approach he was known for prior to his fight with Jesus Salud.
Career Factoids
Has defeated 19 opponents (12 by KO) in World Title fights.

4 opponents* (1 by KO) in World Super Featherweight Title fights
1 opponent* (0 by KO) in World Featherweight Title fights
One opponent (Erik Morales) beaten for World Super Featherweight (by MD) and World Featherweight (by UD) titles
15 opponents (11 by KO) in World Super Bantamweight Title fights.

Has a record of 22-4 (12 KO) in World Title fights.
Has a record of 18-7 (10 KO) against former or current world titlists.

Won against Carlos Gabriel Salazar, Eddie Cook, Daniel Jimenez, Frank Toledo, Agapito Sanchez, Kennedy McKinney, Jesse Benavides, Orlando Fernandez, Jesus Salud, Naseem Hamed, Enrique Sanchez, Erik Morales (2x), Johnny Tapia, Kevin Kelley, Paulie Ayala, Mzonke Fana, Robbie Peden
Lost against Junior Jones (2x), Erik Morales, Manny Pacquiao (2x), Juan Manuel Marquez, Amir Khan
National & Regional Titles
Mexican Super Flyweight Champion (1992-93)
NABF Super Flyweight Champion (1993)
Lineal Titles
World Featherweight Title
World Titles
WBO Junior Featherweight Champion (1995-96)
WBO Junior Featherweight Champion (1998-00)
WBO Junior Featherweight Champion (2000-01); Re-awarded belt after losing to Erik Morales
WBC Featherweight Champion (2002); title immediately became vacant because Barrera refused the title
WBC Super Featherweight Champion (2004-2007)
IBF Super Featherweight Champion (2004-2006)
Comment