Mohammad Said
Jump to navigation
Jump to search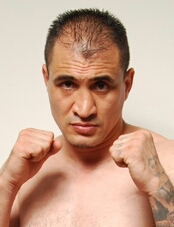 Name: Mohamad Abdallah Said Salem
Hometown: Sao Paulo, Sao Paulo, Brazil
Birthplace: Syria
Stance: Orthodox
Height: 175cm
Reach: 178cm
Judge: Record
Pro Boxer: Record

Ex-Trainer: Jaime Sodre De Franca
Trainer: Al Certo

Mohammad Said was born in Syria, but was raised in Jordan. He currently lives in Sao Paulo, Brazil, where he owns a travel agency, but trains in Las Vegas, Nevada.
Biography
He performed in 1987 at age 12. A friend took him to boxing because he discovered his smart and aggressive side to see their behavior on the street.
After two years of boxing training, was champion of Jordan sub sixteen, was selected for the selection of Jordan sub sixteen.
Selection remained in until 1998, winning the most championships in and out of Jordan.
Come to Brazil with 118 and has two more fights in Brazil, completing 128 amateur fights.
Having idol Mustafa Hamsher, when he turned pro and worked with Mustafa Hamsher work in 2006.
And still my dream to fight for the championship. My preference would be one of those entities:. IBF / WBA / WBC / WBO / IBO.
But I'm looking for a world title of any other entity.
Ja disputed evidence:. Paul Middleweight Title, UBC Iberian-American Middleweight Title, Vacant IBF Latino Light Middleweight Title, IBF International title average WBC Continental Americas vacancies middleweight title, New York State Super Middleweight Title
Amateur Career
He practiced boxing in 1987 Jordan defended the selection of boxing 128 Amateur fights, 120 Victoria, 08 Losses
1989. Champion. Jordan under 16.
1990. Championship. Bronze Medal Arabia under 16.
1993. Championship. Egypt International Bronze Medal
1995. Championship. Jordamia International Silver Medal
1995. Championship. Egypt / Eighth Place
1995. Champion. Egypt International Gold Medal
1996. Championship. Turkey International Silver Medal
1998. Championship. Iran Bronze Medal

Wrestling......... 120
Defeat............... 08
Total Fights..... 128
Titles Held Professional
Vacant Sao Paulo State Super Middleweight Title (2008)
UBC Iberian-American Middleweight Title (2003)
Sao Paulo State Middleweight Title (2001)
Interim Brazilian middleweight title(2012)