Orlando Canizales
Jump to navigation
Jump to search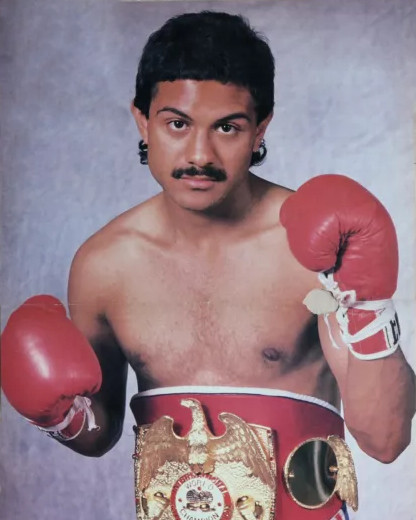 Name: Orlando Canizales
Birth Name: Orlando Cañizales
Hometown: Laredo, Texas, USA
Birthplace: Laredo, Texas, USA
Stance: Orthodox
Height: 163cm
Reach: 165cm
Pro Boxer: Record
Amateur Boxer: Record

Trainer: Jesse Reid
Manager: Bob Spagnola

Career Review
Brother of former WBA and WBO Bantamweight Champion Gaby Canizales.
Compiled an amateur record of 108-12.
Lost to NABF Flyweight Champion Paul Gonzales by a twelve-round unanimous decision on July 20, 1986.
Stopped Armando Velasco in four rounds to win the NABF Flyweight Championship on November 12, 1987.
Stopped Louis Curtis in two rounds to win the USBA Junior Bantamweight Championship on April 15, 1988.
Stopped Kelvin Seabrooks in fifteen rounds to win the IBF Bantamweight Championship on July 9, 1988.
Avenged his only professional loss by stopping Paul Gonzales on a cut in two rounds on June 10, 1990.
Successfully defended the IBF title 16 times, a division record, before vacating it in 1994 to move up in weight.
Lost to WBA Super Bantamweight Champion Wilfredo Vazquez by a twelve-round split decision on January 7, 1995.
Stopped Danny Aponte in seven rounds to win the IBC Super Bantamweight Championship on September 12, 1995.
Lost the IBC title to Junior Jones by a twelve-round split decision on March 23, 1996.
Stopped Sergio Reyes in ten rounds to win the IBA Featherweight Championship on November 3, 1996.
Inducted into the International Boxing Hall of Fame in 2009.
Finished career having defeated 14 opponents (9 by KO) in world title fights.
Finished career with a record of 16-1 (10 KOs and 1 NC) in world title fights.
Finished career with a record of 5-3 (5 KOs) against former, current and future world titlists.