Randy Turpin
Jump to navigation
Jump to search
Name: Randolph Turpin
Alias: The Leamington Licker
Birth Name: Randolph Adolphus Turpin
Hometown: Leamington Spa, Warwickshire, United Kingdom
Died: 1966-05-17 (Age:37)
Stance: Orthodox
Height: 177cm
Reach: 189cm
Pro Boxer: Record
Amateur Boxer: Record


Biography
The following is from the Randolph Turpin Site:
Randolph Adolphus Turpin was born in Leamington on 7th June 1928, the son of Lionel Fitzherbert Turpin and Beatrice Whitehouse. Lionel was the first black man in Leamington, after emigrating from British Guiana. Beatrice was white, a local girl whose father, Tommy Whitehouse, was a bare-knuckle fighter. Randy was the youngest of five children--his siblings being Dick, Joan, Jackie and Kathy. Randy was forced to overcome problems from an early age. Three months after his birth his father died--this was due to being gassed on the Somme in the First World War, an injury from which he never recovered. As a three year-old Randy he contracted double-pneumonia, from which he amost died. On another occasion, whilst swimming in a river, he was trapped underwater by weeds. This made him partially deaf for the rest of his life.
Boxing was in the family, and Randy's elder brother Dick turned professional when Randy was nine years old. Randy joined the Leamington boys club, which was run by John 'Gerry' Gibbs, a police inspector, who soon saw the promise in Randy. Starting at twelve, Randy had 100 amateur contests, winning 95. By 1943, aged 15, he had become the British junior 112lb champion. He won the junior 133lb championship in 1944, and the 147lb junior and senior championships in 1945. Also in 1945 he became the youngest ever ABA champion, and also the first black boxer to win an ABA title.
Randy chose to leave his job as a local builder and follow brother Jackie into the merchant navy. He became an assistant cook, but continued with boxing--winning the Navy championship, the Inter-Services Boxing Association title, and another ABA title. Randy's greatest amateur victory came in 1946 when fighting American Harold Anspach. It was widely thought that at seventeen years old, Randy would find Anspach too strong. He proved the doubters wrong by knocking out the American in 90 seconds, watched by a crowd of 10,000 people. Anspach would go on win the 1946 U.S Amateur Championship at 160lbs, a feat previously achieved by Ezzard Charles and Joey Maxim. Anspach turned professional shortly after fighting Randy, but wisely avoided another meeting between the pair.
In September 1946, Randy, along with brother Jackie, decided to join the professional ranks. They signed with George Middleton, a local shop keeper, who was already managing brother Dick. Randy would use the nickname of "The Leamington Licker" as a professional, a name given to him during his school days for his ability to lick people twice his size. His career as a professional started brightly on September 17, 1946. He defeated Gordon Griffiths in less than two minutes, the referee stopping the bout. Randy fought and won fifteen times before being held to a draw by Mark Hart, whom he had previously beaten.
Randy followed his first minor setback with two decisive first-round knockouts: over Freddie Price and Gerry McCready. He then scored his biggest victory to-date with a points victory over British Middleweight champion Vince Hawkins--although, at 19, he was not old enough to fight for the British title.
Randy had at this time separated from his first wife Mary Stack, with her accusing him of assault. The case was dismissed, although the troubles obviously affected Randy during a disappointing points defeat to Albert Finch. This would be the first in a series of personal crises, that would affect his performance in the ring. Randy outpointed Alby Hollister before giving possibly the worst performance of his career three months later against Jean Stock. On the day of the fight Randy was told that his wife had been given custody of their son. It is said that Randy told brother Dick in the dressing room that he did not feel like fighting and would not be suprised if he lost. Randy fought with no heart, and retired at the end of the fifth after being dropped several times.
Following these setbacks Randy took a five month break from boxing, his longest spell without a fight since his career began. He vowed to never lose again, and came back to boxing with a series of brilliant wins. These included avenging his loss to Albert Finch with a fifth round knockout, which saw him take the British Middleweight Title in the process. This victory was made ever more special for Randy, who had saw Finch defeat brother Dick for the title only months earlier. He would then take the European Middleweight Title with a 48-second knockout of Dutchman Luc van Dam. His success continued with another defeat avenged, this time over Jean Stock by knockout in round five, the same round in which he had lost some three years before. Three more knockout victories would follow, including the defeat of the highly rated Jan de Bruin.
Randy, having now avenged both of his defeats and beaten some high calibre opposition, was handed a world title fight. His opponent the seemingly invincible Sugar Ray Robinson, in Earls Court, London. Robinson was reaching the end of a European tour, which had seen him defeat a selection of hand-picked opponents. Throughout the tour Robinson had suffered numerous setbacks including Jan de Bruin walking from the ring, and a disqualification loss (which was later changed to a no-contest). Robinson arrived in Britain in an open-topped pink Cadillac, accompanied by 53 suitcases and an entourage of eight--including a hairdresser, odd-job man, and a midget whose job was to be a court jester.
Randy shocked the world by defeating Robinson, and instantly became a British hero. While many shock defeats have appeared over the years, they are almost always by a lucky punch. Randy's win was different; he out-boxed and out-fought the champion for the entire contest, leaving the result in no doubt. Sugar Ray acknowledged that he was soundly beaten with the quote. "You were real good. I have no alibis. I was beaten by a better man."
Robinson used a clause in the contract that guaranteed a re-match. The return fight was held in New York and drew 61,370 spectators, a record for middleweights. Randy fought just like he did in the first fight and was getting to his opponent. With a right-hand Randy split Robinson's left eye so badly the fight could have been stopped. Fearing the stoppage Robinson threw everything at Randy, landing first a right that floored him. Then a barrage of punches with Randy pinned to the ropes, with only 8 seconds of the round to go the fight was stopped. Randy's reign as Middleweight boxing king had ended in just 64 days. During his stay in New York Randy became friendly with a black girl, Adele Daniels, who saw him off when he left, and expected to see him soon. Whilst Randy did not keep contact with the girl, she would reappear in his life a little later.
On returning to Britain Randy immediately focused his attentions on the British and Empire light heavyweight titles. Defeating Don Cockell to win both, Cockell would later last nine rounds with Rocky Marciano. He continued to his successes with a point's victory over a brave Doug Miller, who he floored four times. It was decided that the winner of a bout between Randy and Frenchman Charles Humez for the European Middleweight title, would face the winner of an American elimination series, Robinson having retired. Despite having troubles in making the weight, Randy outpointed Humez before a sell-out 54,000 crowd at White City, London. It was only Humez's third defeat in 65 bouts. The winner of the American elimination series was Carl "Bobo" Olson.
Randy's preparation for the fight with Olson was minimal, boxing only 30 rounds in training. This was due to the reappearance of Adele Daniels at his hotel, expecting to resume their relationship of some two years earlier. Randy was at this time engaged to be married to a Welsh girl, Gwenneth Price. Adele caused several scenes, forcing Randy to retire to his training camp--where he declined to train or talk to the press, and threatened to return home at the slightest provocation. The fight with Olson had begun well, with Randy taking the opening three rounds before suffering a cut under his eye in the fourth. Randy was bullied throughout the fight and was down in the 9th and 10th rounds. Randy appeared unmotivated during the fight and lost in a convincing points decision. Randy claimed after the fight that it was the troubles in his life, and not Olson, that defeated him on the night, declaring: "This lad isn't in the same class with Robinson."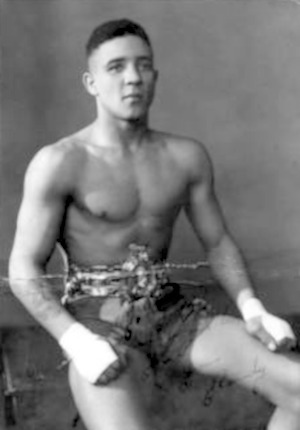 The day before he was due to return to England, Adele Daniels accused him of rape and assault, claiming that he had attacked her during Randy's stay in New York for the Robinson fight. Her lawyer sought $100,000 in damages and Randy was arrested. He was allowed home after lodging $10,000 as insurance that he would return. Despite his troubles Randy married fianc? Gwenneth and appeared to have another run in him after winning a point's decision over the undefeated Olle Bengtsson. This was until a first round knockout against Italian Tiberio Mitri in Rome, put an end to his world title aspirations. Despite not reviving his world title hopes, he did defeat Alex Buxton for the British light-heavyweight title.
Around this time he returned to New York for the Adele Daniels trial. The case was settled out of court before Randy could give evidence. Adele Daniels accepted a settlement payment of $3,500. Randy's costs were more considerable.
As Randy's career began to come to an end, complacency started to set in to his performances. A fourth round knockout defeat to Gordon Wallace saw him retire from the ring. The retirement would last only six months. This defeat also put an end to Randy's hopes of fighting current Light Heavyweight king Archie Moore. On his return to the ring he achieved two knockout victories before a points defeat to Hans Stretz. Randy defeated Alex Buxton for the third time in his career to successfully defend his British Light Heavyweight title. This defence saw Randy win the Lonsdale Belt outright. Seven months later he successfully defended his British title against Arthur Howard, despite being floored three times. Six more wins followed in 1957 and 1958 before he was knocked out by Yolande Pompey in two rounds. This defeat saw Randy retire from the ring after a career spanning twelve years.
Following his retirement it became clear that Randy's finances had been less than well-managed. Numerous failed business ventures including a hotel and holiday camp saw him fall heavily in debt. For money Randy fought as a wrestler at £25 a bout. He also had a job working in a scrapyard, which was owned by former manager George Middleton. In 1962 the Inland Revenue claimed £17,126 on his boxing earnings. Randy could not pay and was declared bankrupt. He made a brief return to the ring to score knockout victory over Eddie Marcano and Charles Seguna, before troubles with his eyesight put an end to his career for good.
With many troubles in his life, Randy committed suicide on May 17, 1966. Randy was inducted posthumously into the International Boxing Hall of Fame in 2001, exactly 50 years after his victory over Sugar Ray Robinson. A statue of Randy was erected in Market Square in his hometown of Warwick, England.
Additional Information
Amateur Titles
1943 ABA Junior 'Class A' Champion 7st.
1944 ABA Junior 'Class B' Champion 10st 7lbs.
1945 ABA Welterweight Champion.
1946 ABA Middleweight Champion.
Professional Titles
World Middleweight Champion
European (EBU) Middleweight Champion
British Middleweight/Light Heavyweight Champion
Commonwealth (British Empire) Middleweight/Light Heavyweight Champion
Recognition
Randy Turpin ranked 47th of all-time in Hamilton's Historical Order of Merit published on December 31, 2013.[1]