Ring Magazine: August 1932
Jump to navigation
Jump to search

Cover: M.K. Fleming Illustration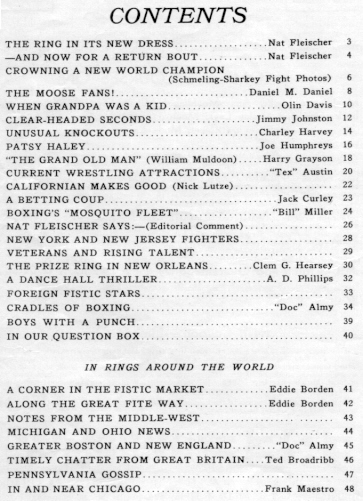 This is first 50 paged-issue, reduced from 66 pages. They would remain at 50 pages until November 1933, when they would be increased back to 66 pages.
The price of each issue was reduced from 25 cents to 15 cents.
Article topics include: new champion Jack Sharkey; photos of the Sharkey-Max Schmeling fight; "When Grandpa Was a Kid" article looking through old issues of the National Police Gazette and Boston Police News; "Unusual Knockouts": Jack (Kid) Madden-Jimmy Barry (Oct. 21, 1895), Soldier Kearns, Knockout Brown vs. Kid Goodman, and others; lengthy pieces on referee Patsy Haley and William Muldoon; wrestling; the "Mosquito Fleet" of Clever Sencio (a.k.a. Inocencio Moldez) and Bud Taylor, Johnny Hill, Fidel LaBarba; Nat Fleischer editorial on the "no foul" rule, Jack Gross, Harry Ertle, and a reply to readers' letters on the Sharkey-Schmeling fight; old-time boxing in New Orleans; description of the June 17, 1890 bout between bantams Paddy McBride and Jimmy Lynch; the 16th in the series on "Cradles of Boxing" in New England, including the George Rooke-Timothy Hussey bout of Oct. 17, 1868.