Rodel Mayol
Jump to navigation
Jump to search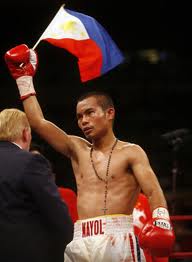 Name: Rodel Mayol
Alias: Kid Rapido Batang Mandaue
Birth Name: Rodel Bryan Generalao Mayol
Hometown: Los Angeles, California, USA
Birthplace: Mandaue City, Cebu, Philippines
Stance: Orthodox
Height: 163cm
Pro Boxer: Record

Trainer: Brix Flores (former)
Manager: Manny Pacquiao

5-time National Amateur Champion
Born in Alang-alang Mandaue, Rodel Bryan Generalao Mayol braced the hardship of boxing at an early age. He cruised his way in the amateurs capturing five medals as a champion. And long before we knew it, he became an ALA boy named after the Aldeguer Gym which trains world class boxers like Boom Boom Bautista and rising phenom AJ Banal. He was first managed by Terry Lee Carter and then by Japanese promoter Yasuo Matsuoka. His first shot at the world title was against Eagle Kyowa, a Japan-based Thai, wherein the bemedaled Mayol frame dominated the champion for six rounds but lost control in the final rounds and was drained out at the end of the fight. He had not slept the night before the fight and he was not in tip top condition suffering from jet lag.
After a year of inactivity he had to bolt out from his manager and find ways to fight because he has a family to feed. Then came Canadian matchmaker Michael Koncz, who gave him a title shot against Ulises Solis on the undercard of the Diaz vs. Morales match in Chicago.
Once again Mayol proved to everyone that he can mix it up with the champion banging him and almost decking the champ. But he was caught with a picture perfect left hook which sent him to the canvas for the count. It was a very frustrating loss for Mayol. What people didn't know was that Mayol had to undergo hell before that match. First, he had no sparring partner. He only sparred with Filipino Mercito Gesta, which was too much for a 108 lbs fighter like Mayol (Gesta was 133 lbs). Secondly, they were basically abandoned by his Japanese manager. Koncz was just a matchmaker so they basically had to look out for their own training. Homer Sayson, a famous columnist, said that sometimes they only ate once a day and they had to walk from their apartment to the gym. In the end, Mayol was malnourished and was not in good shape when he fought Solis. With the loss, the Philippine Boxing Media basically wrote him off until Manny Pacquiao came to his rescue and bought his contract from his Japanese manager.
Professional Record
Has a record of 1-5-2 (1 KO) in world title fights.
Has a record of 2-6-2 (1 KO) against former or current world champions:
Has a record of 11-6-2 (8 KOs) in fights outside his native Philippines.
Regional & Minor Titles
Philippines Boxing Federation (PBF) Minimumweight Title (December 2000; 0 defenses)
Philippines Games & Amusement Board (GAB) Minimumweight Title (August 2002-December 2003; 1 defense)
OPBF Minimumweight Title (December 2003; 3 defenses)
Philippines Games & Amusement Board (GAB) Light Flyweight Title (August 2008; 0 defenses)
World Titles
WBC World Light Flyweight Title (November 2009-June 2010; 1 defense)