Arthur Frederick Bettinson
Jump to navigation
Jump to search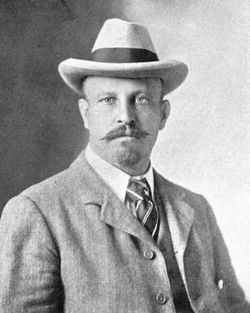 Name: Arthur Frederick Bettinson
Alias: Peggy Bettinson
Born: 1862-03-10
Hometown: London, United Kingdom
Birthplace: Marylebone, London, United Kingdom
Died: 1926-12-24 (Age:64)
Referee: Record
Amateur Boxer: Record


According to the IBHOF bio, Arthur Frederick Bettinson (nicknamed 'Peggy'):
was born in 1862. He was the British ABA lightweight champion in 1882. In 1887 he co-founded the Pelican Club and, along with John Fleming, founded the National Sporting Club in England on March 5, 1891. Created as a middle class sporting club, the NSC hosted many of the top boxers of the day. Bouts took place after dinner and featured such standouts as Joe Walcott, Tommy Ryan, Jimmy Wilde, Ted (Kid) Lewis, Georges Carpentier and Kid McCoy. Bettinson ruled with an iron fist; boxers had to behave themselves and the 1,300 members and guests were not permitted to talk during the action. Established as a venue, promoter and governing body, the influence of the NSC was profound. In 1909 it standardized divisions and weight limits before authorizing British title bouts and arranged for the presentation of championship belts, donated by Lord Lonsdale, the first president of the NSC. Bettinson died in 1926 in London.
Bettinson also served as a referee for many NSC bouts.
He co-authored two books with Ben Bennison: The Home of Boxing(published in 1923 by Odhams in London)[1], and Famous Fights and Fighters: From Jem Mace to Tommy Farr (1913)[2]. And he wrote The National Sporting Club Past and Present 1902 (reprinted in 2010). There is some material on Bettinson in Noble and Manly: The History of the National Sporting Club by Guy Deghy (1956).
Bettinson is a 2011 inductee into the International Boxing Hall of Fame.