Cedric Kushner
Jump to navigation
Jump to search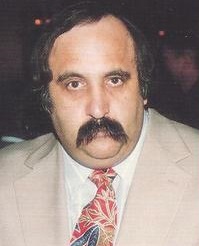 Name: Cedric Kushner
Hometown: New York, New York, USA
Birthplace: South Africa
Died: 2015-01-29 (Age:66)
Promoter: Record

Cedric Kushner Photo Gallery

Biography
Cedric Kushner was a South African-born American boxing promoter and manager. In the late 1990s he was one of the most significant promoters in the sport. Boxers he promoted and/or managed included Cassius Baloyi, David Bostice, Shannon Briggs, Vuyani Bungu, Chris Byrd, Gerrie Coetzee, Michael Grant, Virgil Hill, Ike Ibeabuchi, Kirk Johnson, Mark Johnson, Reggie Johnson, Angel Manfredy, Teddy Mann, Oleg Maskaev, Jameel McCline, Shane Mosley, Carlos Navarro, Danell Nicholson, Zolani Petelo, Ross Puritty, Hasim Rahman, Corrie Sanders, Marlon Starling, Obed Sullivan, Frank Tate, David Tua, Tony Tucker and Charles Williams among others.
Kushner founded the boxing promotion companies "Cedric Kushner Promotions" and "Gotham Boxing" (in May 2006).
The highlight of Kushner's career came in 2001 when he matched Hasim Rahman against Lennox Lewis for the heavyweight championship in his native South Africa. Rahman won, but rather than signing with Kushner after the fight, he signed with rival promoter Don King.
Kushner briefly co-managed the heavy metal band AC/DC. Also has promoted Steppenwolf, Bob Seger, Queen, Fleetwood Mac, Grateful Dead, Rush, Neil Young, Rolling Stones.
Kushner died of a heart attack in January 2015. He was 66. [1]
External Link