Marcela Eliana Acuña
Jump to navigation
Jump to search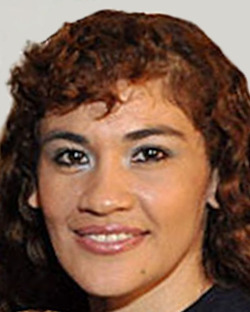 Name: Marcela Eliana Acuna
Alias: La Tigresa
Birth Name: Marcela Eliana Acuña
Hometown: Caseros, Buenos Aires, Argentina
Birthplace: Formosa, Formosa, Argentina
Stance: Orthodox
Height: 164cm
Pro Boxer: Record


Professional Record
Has a record of 15-2-1 (5 KOs) in world title fights.
Has a record of 10-6-1 (1 KO) against former or current world titlists.

Won against Yazmin Rivas, Claudia Andrea Lopez, Alejandra Marina Oliveras, Jackie Nava, Alicia Ashley, Betiana Patricia Vinas, Edith Soledad Matthysse (twice), Melissa Hernandez, and Yesica Patricia Marcos.
Lost against Christy Martin, Alicia Ashley (twice), Sharon Anyos, Carolina Raquel Duer, and Daniela Romina Bermudez.
Drew against Yesica Patricia Marcos.

Has a record of 3-3 (0 KO) in fights outside her native Argentina.
Regional & Minor Titles
Argentina (FAB) Female Featherweight Title (January 2002; 1 defense)
Argentina (FAB) Female Super Bantamweight Title (February 2003; 0 defenses)
WIBA Super Bantamweight Title (December 2003; 1 defense)
WIBA Featherweight Title (January 2005; 1 defense)
WBC Silver Female Super Bantamweight Title (May 2012; 1 defense)
Interim WBA World Female Featherweight Title (May 2016; 1 defense)
World Titles