Roberto Vasquez
Jump to navigation
Jump to search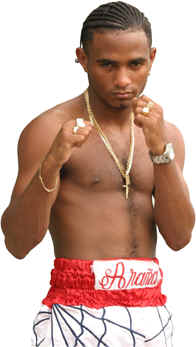 Name: Roberto Vasquez
Alias: La Arana (The Spider)
Birth Name: Roberto Gaspar Vásquez Ramírez
Hometown: San Francisco, Panama
Birthplace: Panama City, Panama
Stance: Southpaw
Height: 163cm
Reach: 165cm
Pro Boxer: Record


Career Overview
The third of four sons of Mr. Carlos Vazquez and Mrs. Nellis Ramirez de Vazquez, Roberto Vasquez was born 26 May 1983 in the Saint Thomas hospital of Panama City. Following in the steps of his two brothers, Royers and William (also professional boxers), Vasquez started his amateur career in 1992 when he was just nine years old, obtaining a record of 94 victories and only five losses. In 1998 he won the Juvenile National Championship of Panama, and in 2000 he won the National Golden Gloves tournament, just a few months before his professional debut.
Vasquez is popularly known as "La Ara?a" (The Spider), baptized by his first amateur trainer Sonin Rodden. The nickname comes from his agile defense and speed, besides his power and attacks.
He has won the 2001 "Fight of the Year," 2002 "Prospect of the Year," and 2003, 2004 and 2005 "Boxer of the Year" awards, from the Panamanian Professional Boxing Commission.
The 2004 was a very painful year for Roberto, due to the loss of his father during a boxing card in November.
He was the Latin-American World Boxing Council, World Boxing Association Fedelatin, and Latino World Boxing Organization champion, becoming the first Latin American fighter to hold these three titles at the same time in any weight division.
On April 29, 2005, Vasquez became the 22nd Panamanian to become a world champion, when he knocked out the WBA's interim champion, Beibis Mendoza. On May 20, 2006 Roberto dedicated his third successful defense of his light flyweight title to his trainer Pedro "Pell?n" Avila, who was suffering from terminal cancer. After the fight Vasquez officially anounced his intention to move up in category to face Lorenzo Parra, for Parra's WBA flyweight title. The fight was scheduled for November 2006, but Parra injured his right knee during a training session giving the opportunity to Vasquez to fight for the interim title against #2 contender Takefumi Sakata from Japan. The fight took place in Paris, France on 2 December 2006 and Vasquez won a split decision over Sakata obtaining his second world crown. 7 months later, Sakata prevailed in the rematch. After problems making the 112 pounds Roberto climbed to the super Flyweight division where he is actually trying to win his third world title.
World Title Recognition
WBA Light Flyweight Champion
WBA Flyweight Champion (Interim)