Roger Mayweather
Jump to navigation
Jump to search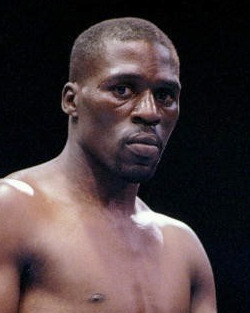 Name: Roger Mayweather
Alias: Black Mamba
Hometown: Las Vegas, Nevada, USA
Birthplace: Grand Rapids, Michigan, USA
Died: 2020-03-17 (Age:58)
Stance: Orthodox
Height: 171cm
Reach: 187cm
Pro Boxer: Record

Photo #2, Photo #3, Photo #4
Trainer: Jesse Reid
Manager: Billy Baxter
Career Summary
Roger Mayweather was a world champion in two weight divisions. He was known for having good boxing skills, long arms and a good right hand. However, he was widely considered by most boxing observers as having a bad chin.
Mayweather's first world title was the WBA super featherweight championship, which held from 1983 to 1984. He won the title from Samuel Serrano by an 8th-round TKO and lost it in his third defense to Rocky Lockridge by a 1st-round KO.
Mayweather briefly stylized himself as the "Mexican Assassin" after a string of victories, most by knockout, over a series of world-class Mexican fighters in Los Angeles between 1986 and 1989. This led to his second meeting with Mexico's top fighter, Julio Cesar Chavez, who stopped Mayweather in two rounds in 1985.
Mayweather was making the fifth defense of the WBC super lightweight championship, which he won with an 8th-round TKO of Mexican Rene Arredondo in 1987. Chavez won the title when Mayweather retired on his stool after the 10th round.
Mayweather would later capture several lightly regarded titles: the IBO light welterweight and welterweight titles in 1994 and the IBA welterweight title in 1997.
Family
Brother of fellow boxers:
Uncle of fellow boxers:
Post-Fighting Career
Mayweather trained his nephew, Floyd Jr., and drew national attention after he entered the ring in the 10th round of Floyd's bout against Zab Judah on April 8, 2006.
Roger entered the ring with five seconds remaining in the round because he was angry at Judah, who had hit Floyd Jr. with a blatant low blow followed by a right hand to the back of the head, both dangerous and illegal punches.
As referee Richard Steele called timeout to give Mayweather a chance to recover, Roger stormed toward Judah.
That prompted Yoel Judah, Jab's father and trainer, to also enter the ring. He went straight for Roger and threw a punch at him.
Seconds later, the ring was filled with members of the fighter camps and security in a scary free-for-all that came close to sparking a full-scale riot among the 15,170 fans inside the Thomas & Mack Center.
However, with extra security on hand, order was restored after several minutes and the fight continued.
Roger was suspended for one year and fined $200,000 by the Nevada State Athletic Commission. [1]
Legal Troubles
On August 3, 2009, Mayweather was arrested at a Las Vegas apartment in an attack on a female boxer he once trained, authorities said.
He was arrested on felony coercion and battery-strangulation charges and later freed from the Clark County jail on $13,000 bail, said Detective Ramon Denby, a police department spokesman.
According to a police report, an officer responding to a disconnected 911 call found Mayweather fighting with a 25-year-old woman at the apartment in northwest Las Vegas.
The woman, professional boxer Melissa St. Vil, told police she had been punched in the ribs and hit Mayweather with a lamp during a struggle. She was treated by paramedics at the scene and taken to a Las Vegas hospital for treatment of injuries that included redness around her throat, police said.
Mayweather had injuries on the head and the side of his face. It was not clear if he required medical treatment before he was taken to jail.
The report said Mayweather formerly trained St. Vil and had been following her since she severed their business relationship and went to another gym.
It said Mayweather owns the apartment and was upset that his tenant was letting the woman live at the apartment. The tenant was not home at the time of the alleged attack, police said. [2]
On January 20, 2011, Mayweather pleaded no contest to two misdemeanor battery charges in a plea deal that avoided a trial and jail time. He was sentenced to a year of probation, 24 weeks of domestic violence counseling, 50 hours of community service and a $1,000 fine. [3]