Roy Jones Jr. vs. Virgil Hill
Jump to navigation
Jump to search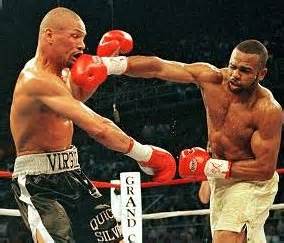 Virgil Hill 177 lbs lost to Roy Jones Jr 177 lbs by KO at 1:10 in round 4 of 12
Notes
Jones was a 6-1 favorite.
Hill earned $1 million, and Jones received $4 million, including a $500,000 bonus for having extended his contract with HBO.
Grand Casino, the fight's host, gave Jones a $125,000 Rolls-Royce.
There was a contracted weight limit of 177½ pounds.
This was a 12-round non-title fight.
There was a crowd of 8,700.
Jones knocked out Hill with a right to the body. It was the first knockout loss of Hill's career.
Jones landed 34 of 69 power punches (49%) and Hill landed 11 of 30 (37%).
The KO was named The Ring Knockout of the Year.
The WBC Light Heavyweight Title
In early 1998, the WBC light heavyweight title was relinquished by Jones, who planned to move up to heavyweight. Jones signed to fight former heavyweight champion James (Buster) Douglas for the International Boxing Association heavyweight title on May 2, 1998 in Atlantic City, New Jersey.
On March 21, 1998, WBC #1 contender Michael Nunn fought #2 contender Graciano Rocchigiani for the vacant light heavyweight title. Rocchigiani won by a split decision and was declared the new champion.
Meanwhile, Jones changed his mind about moving up to heavyweight, backed out of the Douglas fight and signed to fight Hill.
In June 1998, the WBC stated that Jones was the "champion in recess" and Rocchigiani was the "interim" champion. The WBC said its references in promotions and contracts to the Rocchigiani-Nunn fight as a championship bout, and to Rocchigiani as the champion, had been typographical errors.
Jones and Rocchigiani were scheduled to fight in Biloxi, Mississippi on November 6, 1999. However, promoter Murad Muhammad called off the bout because Rocchigiani didn't attend a press conference in New York. Muhammad said he couldn't promote a bout with Rocchigiani if he didn't cooperate. The WBC subsequently stripped Rocchigiani outright.
Rocchigiani sued the WBC and was awarded $31 million in lost earnings and other damages by a New York court in April 2003. The court also retroactively restored Rocchigiani's official WBC light heavyweight championship status, but only from March 28, 1998 (when he defeated Nunn) to April 15, 2000 (when he lost to Dariusz Michalczewski).
The WBC filed for chapter 11 bankruptcy protection after the judgement. A year later, the WBC announced they planned to file for chapter 7 bankruptcy, which usually leads to the liquidation of a company. They withdrew plans to file for Chapter 7 bankruptcy when they reached an agreement with Rocchigiani in August 2004. Terms were not disclosed.
Articles