International Boxing Association
Jump to navigation
Jump to search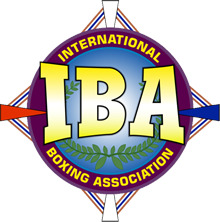 The International Boxing Association (IBA) is a professional boxing sanctioning body that awards world and subordinate championships. It was founded in 1991 by Dean Chance, a former Major League Baseball pitcher. In June 2017, the IBA was relaunched by a new group under the leadership of Jean-Christophe Courreges, Steve Smoger, Stéphane Cabrera and Jean-Philippe Lustyk.
While successful since its formation, the IBA's World championship has gained some acclaim by its titles being held by some notable & legendary boxers. The IBA became a pioneer among sanctioning organizations in the early 2000s when it began recognizing women's champions at the world level.
The list of the notable IBA title holders includes Floyd Mayweather Jr, Oscar De La Hoya, Arturo Gatti, Bernard Hopkins, Oliver McCall, Calvin Brock, Mike Weaver, Sugar Shane Mosley, Beibut Shumenov, Roy Jones Jr., Fernando Vargas, Antonio Tarver, Roberto Duran, Glen Johnson, George Foreman, Laila Ali, Mia St. John, Holly Holm, Teresa Perozzi, James Toney, Diego Corrales, Mikkel Kessler, Joel Casamayor, Jose Luis Castillo, Orlando Canizales, Robert Daniel, Mairis Briedis, Sergei Kovalev, Eleider Alvarez, Daud Yordan and Nico Hernandez.
The IBA crowns World, Intercontinental, International, Americas, African, Latino America, Asian, Carribean, European and South Pacific Champions.
Official Web site: click
List of IBA World Champions: click

World Title
Intercontinental Title
International Title
Americas Title
Asian Title
CURRENT TITLE HOLDERS
Weight Class
Champion
Date Won
Title Lineage
Title Fights
Heavyweight
Vacant
—
N/A
N/A
Cruiserweight
Yedil Kozhamberdiyev
2019 Oct 12
Title Lineage
Title Fights
Light Heavyweight
Vacant
—
N/A
N/A
Super Middleweight
Vacant
—
N/A
N/A
Middleweight
Vacant
—
N/A
N/A
Light Middleweight
Vacant
—
N/A
N/A
Welterweight
Eswaran Murali
2019 Dec 29
Title Lineage
Title Fights
Light Welterweight
Vacant
—
N/A
N/A
Lightweight
Musheg Adoian
2019 Dec 15
Title Lineage
Title Fights
Super Featherweight
Vacant
—
N/A
N/A
Featherweight
Vacant
—
N/A
N/A
Super Bantamweight
Vacant
—
N/A
N/A
Bantamweight
Vacant
—
N/A
N/A
Super Flyweight
Vacant
—
N/A
N/A
Flyweight
Vacant
—
N/A
N/A
Light Flyweight
Vacant
—
N/A
N/A
Latino America Title
CURRENT TITLE HOLDERS
Weight Class
Champion
Date Won
Title Lineage
Title Fights
Heavyweight
Roberto Thomas White
2019 Nov 18
Title Lineage
Title Fights
Cruiserweight
Vacant
—
N/A
N/A
Light Heavyweight
Vacant
—
N/A
N/A
Super Middleweight
Vacant
—
N/A
N/A
Middleweight
Vacant
—
N/A
N/A
Light Middleweight
Vacant
—
N/A
N/A
Welterweight
Vacant
—
N/A
N/A
Light Welterweight
Vacant
—
N/A
N/A
Lightweight
Vacant
—
N/A
N/A
Super Featherweight
Vacant
—
N/A
N/A
Featherweight
Vacant
—
N/A
N/A
Super Bantamweight
Vacant
—
N/A
N/A
Bantamweight
Vacant
—
N/A
N/A
Super Flyweight
Vacant
—
N/A
N/A
Flyweight
Vacant
—
N/A
N/A
Light Flyweight
Vacant
—
N/A
N/A