Billy Backus
Jump to navigation
Jump to search
Name: Billy Backus
Birth Name: Harold William Backus
Hometown: Canastota, New York, USA
Birthplace: Canastota, New York, USA
Stance: Southpaw
Height: 170cm
Reach: 175cm
Pro Boxer: Record
Amateur Boxer: Record


Career Overview
Backus retired from boxing in 1965 with a record of 8-7-3. He returned to the ring in 1967.
On January 30, 1970, Backus stopped Ricky Ortiz in eight rounds to win the New York State Welterweight Championship.
Backus stopped Jose Napoles on cuts in four rounds to win the Undisputed World Welterweight Championship on December 3, 1970.
In his first title defense, Backus lost the championship to Napoles by an eighth-round TKO on June 4, 1971.
On June 16, 1972, Backus fought Hedgemon Lewis for the vacant NYSAC World Welterweight Championship and lost by a fifteen-round unanimous decision.
Hedgemon Lewis made his first title defense against Backus on December 8, 1972, and again won by a fifteen-round unanimous decision.
In his final fight, Backus was stopped in two rounds by WBA Welterweight Champion Pipino Cuevas on May 20, 1978.
Backus was inducted into the Greater Syracuse Sports Hall of Fame in 2000.
Biography from the Greater Syracuse Sports Hall of Fame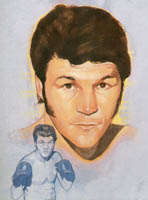 Billy Backus is one of two world titleholders from Canastota as he is the nephew of welterweight/middleweight boxing champion Carmen Basilio.
As an amateur, Backus won an Adirondack AAU tournament and a Niagara Golden Gloves title as a featherweight. The first part of his professional career included nine wins, seven defeats and a draw between 1962 and 1965. He temporarily stepped away from boxing in 1965.
Backus came out of his short retirement and trained and got himself into exceptional shape. He resumed boxing under the tutelage of Tony Graziano, a former manager of his uncle, Carmen Basilio. Backus' first fight was a round one knockout of respectable contender Todd Purtell. He won 14 of his next 15 bouts, losing only to Percy Pugh, whom he later defeated twice.
In 1970, Backus was one of Syracuse's most popular fighters and a highly-ranked welterweight. His first title fight came against champion Jose Napoles. Backus came on like a freight train and opened a deep cut above the champion's eye. Backus earned a TKO in four rounds and became the new welterweight champion of the world.
Backus fought a couple of non-title bouts before losing his crown in a rematch with Napoles on June 4, 1971. After seven more years in the ring, Backus hung up his gloves for good. His lifetime professional record was 48 wins, 20 losses, 5 draws and 26 knockouts.
Backus remained in Canastota and served as a Deputy Commissioner of the New York State Athletic Commission. [1]