Cory Spinks
Jump to navigation
Jump to search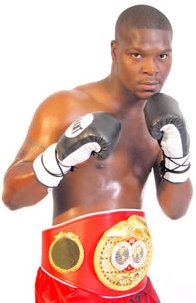 Name: Cory Spinks
Alias: Next Generation
Birth Name: Cory Calvin
Hometown: Saint Louis, Missouri, USA
Birthplace: Saint Louis, Missouri, USA
Stance: Southpaw
Height: 177cm
Reach: 180cm
Pro Boxer: Record

Trainer/Manager Kevin Cunningham (1997-2008)
Career Overview
Cory Spinks is the son of former World Heavyweight Champion Leon Spinks and nephew of former World Heavyweight and World Light Heavyweight Champion Michael Spinks. He was an amateur star with a record of 78-3, and won the National Golden Gloves and National Police Athletic League welterweight titles in 1997.
Spinks won the IBF welterweight title on March 22, 2003 when he defeated Michele Piccirillo by a unanimous decision in Campione D'Italia, Italy. The previous year, Piccirillo captured the vacant IBF title when he beat Spinks by a unanimous decision, a decision Dan Rafael of USA Today called "one of the most controversial decisions in modern boxing history."
On December 13, 2003, Spinks became the undisputed World Welterweight Champion when he defeated WBC and WBA titlist Ricardo Mayorga by a majority decision.
Spinks made the first defense of the unified crown on April 10, 2004 when he defeated former IBF light welterweight titlist Zab Judah by a unanimous decision. Both Spinks and Judah were knocked down in the later rounds of the fight.
Spinks made his second defense against Miguel Angel Gonzalez on September 4, 2004, winning by a unanimous decision.
On February 5, 2005, in his hometown of St. Louis, Spinks lost his titles in a rematch with Judah. Spinks suffered the first stoppage loss of his career when he was TKO'd in the 9th round.
After 519 days away from the ring, Spinks won a majority decision against Roman Karmazin to capture the IBF light middleweight title in St. Louis.
On Feb 3, 2007, Spinks made his first title defense against Rodney Jones with an easy unanimous decision.
Spinks faced World Middleweight Champion Jermain Taylor for his WBC and WBO middleweight titles on May 19, 2007, but lost by a split decision. Secondsout.com called it the "Worst Decision of the Year."
On March 27, 2008, Spinks went back to St. Louis to defend his IBF light middleweight title against Verno Phillips. Judge Robert Paolino saw Spinks winning 116-112, while Robert Hoyle and Jerry Griffin saw Phillips winning 115-113.
Professional Career
Has defeated 7 opponents (0 by KO) in World Title fights.

3 opponents (0 by KO) in World Light Middleweight Title fights.
4 opponents (0 by KO) in World Welterweight Title fights.

Has a record of 7-6 (0 KO) in World Title fights.
Has a record of 7-7 (1 KO) against former or current world titleists.

Won against Jorge Vaca, Rafael Pineda, Michele Piccirillo, Ricardo Mayorga, Zab Judah, Miguel Angel Gonzalez, Roman Karmazin.
Lost against Michele Piccirillo, Zab Judah, Jermain Taylor, Verno Phillips, Cornelius Bundrage (twice), Carlos Molina.