Jack Dempsey
Jump to navigation
Jump to search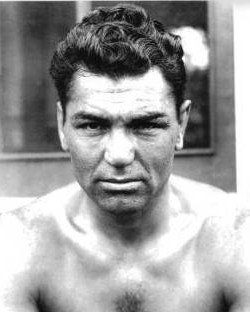 Name: Jack Dempsey
Alias: Manassa Mauler
Birth Name: William Harrison Dempsey
Hometown: Salt Lake City, Utah, USA
Birthplace: Manassa, Colorado, USA
Died: 1983-05-31 (Age:87)
Stance: Orthodox
Height: 185cm
Reach: 185cm
Promoter: Record
Referee: Record
Pro Boxer: Record
Amateur Boxer: Record


Career Overview
Jack Dempsey, the most popular boxer of his generation and one of the most fabled athletes in history, changed the sport of boxing from a straight-up, defensive-minded contest of single punches and frequent holding into an exciting, aggressive battle of furious combinations and blazing knockouts.
Dempsey ascended from a starving hobo to a millionaire during his ground-breaking career. He drew record crowds and gate receipts, participating in boxing's first five $1,000,000 gates.
The Associated Press's mid-20th century poll of over 300 sports writers and radio sportscasters ranked Dempsey as the best fighter of the past 50 years, and a five-member panel chosen by the AP ranked Dempsey as the sixth best fighter of the 20th century in 1999.
The Ring ranked Dempsey as the second greatest heavyweight of all-time in 1975, the sixth greatest puncher of all-time in 1997 and the sixth greatest fighter of the 20th century in 1999.
Even today, Dempsey is routinely ranked by journalists, historians and boxing experts as one of the five greatest heavyweights in history.
Kid Blackie
The man who would be known as Jack Dempsey was born William Harrison Dempsey on June 24, 1895, in Manassa, Colorado. His father, Hyrum Dempsey, was a poor farmer, prospector and laborer who hailed from West Virginia. William and his brothers grew up idolizing famous prizefighters, especially heavyweight John L. Sullivan and middleweight Jack Dempsey, a fighter known as "The Nonpareil" (without equal). Two older brothers, Bernie and Johnny, preceded him into professional boxing, both adopting the name of their idol, Jack Dempsey. Neither was particularly successful.
William left school at the age of sixteen and began working as a laborer at various Colorado railroad stations and mining camps. In his free time, he frequented saloons, challenging other patrons to fisticuffs for side bets. Though he weighed only 150 pounds, he routinely beat older, bigger men and the men who saw him fight began calling him "Kid Blackie" because of his jet black hair. Soon enough, he was participating in organized prizefights, though the details of his record as Kid Blackie have been lost to history.
According to Dempsey, his first organized bout for money took place against a fellow named Freddy Woods in Montrose, Colorado. The date is uncertain, but it was probably in 1913. There is, however, no newspaper account or hard evidence to confirm the fight. Dempsey said he promoted the fight himself. Dempsey was dropped by a body shot in the fourth round, but he came back later in the round to knock Woods unconscious with a right to the chin. "I paid Woods fifteen dollars," Dempsey said. "After expenses, I made almost thirty buck."
The June 19, 1914, edition of the Salt Lake Evening Telegram advertised a fight between "Young" Blackie (another name Dempsey occasionally used) and "Texas Kid," which was to take place the following day in Provo, Utah. The result of it remains unknown.
The earliest fight that researchers have uncovered was a six-round draw against the otherwise forgotten Young Herman, which took place on August 17, 1914, in Ramona, Colorado.
A few months later, Dempsey relocated to Salt Lake City, Utah, where he won three consecutive fights by first-round knockout. He suffered his first recorded loss there in 1915, losing a decision to a more experienced fighter named Jack Downey. Less than a year later, on February 21, 1916, he knocked out Downey in two rounds. Kid Blackie continued taking bouts wherever he could find them in the West: Nevada, Colorado, Utah. In early 1916, he strung off seven consecutive wins and decided to try his hand in New York City. His brothers had retired by this point, and William looked to make his name as the new "Jack Dempsey."
On June 24, in Manhattan, Dempsey survived two knockdowns against the bigger Andre Anderson to go the scheduled ten-round distance in a no decision bout. Official decisions in boxing were illegal in New York State at the time. A little over a week later, in need of cash and food, he fought Wild Bert Kenny, again lasting ten rounds to a no-decision. These performances won him notice in the major New York newspapers and the attention of businessman John "the Barber" Reisler, who became his manager. Reiser matched Jack with John Lester Johnson, an experienced New York native, on July 14, 1916. In an exciting, closely-fought battle, Dempsey took what he later called "the hardest punch I ever took." A Johnson left to Dempsey's body shattered three ribs. Dempsey fought back and, though the fight was another no decision, many in the press praised the newcomer's courage and endurance. After the fight, Reisler cheated Dempsey, who had been sleeping on benches in Central Park the previous night, out of most of his purse. Dejected, Dempsey stowed away on a train back to Salt Lake City, where he found work in various labor jobs and married a prostitute named Maxine Cates.
His professional boxing career at a stand-still, Dempsey served for a few months as a sparring partner for heavyweight contender Carl Morris. Around the same time, he found a new manager, Jack "Doc" Kearns. Kearns brought momentum back to Dempsey's boxing hopes. Between September and November 1916, Dempsey ran up four successive victories against marginal (at best) competition in Utah and Colorado. Then Kearns got Dempsey a shot at his first internationally known opponent, veteran heavyweight Fireman Jim Flynn, a former title challenger known for his rugged fighting style and punching power. The fight took place on February 13, 1917, in Murray, Utah. Dempsey claimed he injured his right hand days before the fight but told no one and went ahead with the fight because he needed the money. Dempsey was knocked out in the first round. It would be the only knockout loss of his career. Newspapers reported that Flynn put Dempsey down for the count with a right to the jaw ten seconds into the fight. However, in his three autobiographies, Dempsey claimed he was floored several times, and his brother, who was working his corner, stopped the fight prematurely. Many believe he took a dive, but Dempsey always denied it.
A little over a month later, Dempsey lost a four-round decision to Willie Meehan, a pudgy Californian with nearly one hundred bouts under his belt.
The Road to the Title
His career once again floundering, Dempsey was forced to continue toiling in obscurity. He outpointed Meehan over four rounds and then went undefeated in his next five fights to secure a match with the hard-hitting Ed (Gunboat) Smith, a perennial heavyweight contender on the downside of his career. A four-round decision over Smith proved to be Dempsey's first win over a nationally recognized name opponent. Then came a four-round decision win over Carl Morris, the bulky ex-contender for whom Dempsey once worked as a sparring partner. Morris could do little but hold and wrestle against Dempsey's rampaging onslaught. In the rematch, the referee disqualified Morris in the sixth round of their scheduled ten-rounder.
On February 14, 1918, Dempsey fought a rematch with Jim Flynn, the Pueblo Fireman who had knocked him out in one round twelve months earlier. Dempsey returned the favor, flattening Flynn in one minute and ten seconds of the first.
With four wins against name opponents inside of four months, Dempsey had made himself a viable heavyweight contender. Still more victories over quality opponents followed: Bill (KO) Brennan (KO 6), Arthur Pelkey (KO 1), Fred Fulton (KO 1), Battling Levinsky (KO 3), Carl Morris (KO 1), Ed (Gunboat) Smith (KO 2). In September of 1918, Dempsey lost another four-round decision to Willie Meehan and ducked out of a six-round war charity match at Madison Square Garden with the once dangerous Joe Jeannette, but it didn't matter. When he put together a streak of six consecutive first-round knockout wins between January and April of 1919, the rampaging young heavyweight was the talk of fight circles and the leading contender to face the massive heavyweight champion of the world, Jess Willard.
World Champion
Willard stood more than six and a half feet tall and routinely weighed in excess of 240 pounds, monstrous dimensions for a man of the early twentieth century. Despite Dempsey's recent success, he was seen as too rough-edged and too small to stand a chance against Big Jess. Indeed, many sportswriters expressed concern that Dempsey might lose his life in the ring, as had a previous Willard opponent, William (Bull) Young. When the July 4, 1919, bout began, however, their concerns immediately focused on the champion. Dempsey's fast hands and tremendous punching power made all the difference, sending Willard down an amazing seven times in the opening three minutes. He reportedly knocked out several of the champion's teeth, cracked his ribs, slashed his face to ribbons, and shattered his jaw and nose. The first round ended with Willard down in a neutral corner. Referee Ollie Pecord was at the count of seven when the timekeeper blew a whistle to end the round (a whistle was used because the bell malfunctioned). But the crowd was so loud that Pecord, and many others, didn't hear it. Pecord finished the count and informed Dempsey that he was the winner. Dempsey was on his way to his dressing room when the timekeeper told Pecord that the round ended before he counted out Willard. Kearns, bet $10,000 at 10 to 1 odds that Dempsey would win by a first-round knockout, called Dempsey back into the ring and the fight continued. Willard stayed on his feet during rounds two and three, but he continued to take a beating. Willard's corner stopped the fight after the third round. Willard sat in his corner sobbing, "I have $100,000 and a farm in Kansas ... I have $100,000 and a farm in Kansas ..."
Later accounts of some involved in the fight, including Willard and promoter Tex Rickard, proposed that Dempsey had loaded his gloves with either plaster of Paris or steel, but those allegations have never been proven, although Dempsey never dealt out such a savage beating again. Shortly before his death in 1963, Kearns approved the final draft of his memoirs and secured a deal with Sports Illustrated to publish two excerpts from the book. In one of the of excerpts, Kearns claimed that Dempsey's hand wraps were treated with plaster of Paris. Dempsey denied that his gloves were loaded and sued Time Inc., publishers of Sports Illustrated, for $3 million. In September of 1965, they settled out of court for an undisclosed amount.
Dempsey's first challenger for the title was faded contender Billy Miske. The fight took place on September 6, 1920. A veteran of more than eighty bouts, Miske had supposedly never been down or out in his career. He had gone a scheduled six rounds with Dempsey two years earlier, but by 1920 had already been diagnosed with Bright's Disease, a potentially fatal illness that attacks the kidneys. Ignoring the advice of doctors, Miske decided he needed the money and approached Dempsey and his handlers about securing a title fight. Dempsey pushed the match through and dominated his ailing friend. Dempsey later said he wanted to end the fight early to avoid dealing any prolonged punishment to the sick man. In the second round, a body blow from the champion put Miske down for the first time in his seven years as a prizefighter. Miske made it to his feet but fell again in the third. If Dempsey was trying to end it early, the challenger seemed averse to the notion. Miske again made it to his feet, only to be dropped yet again in the same round. The referee counted ten and Dempsey helped his barely conscious challenger to his corner.
Dempsey's debut at New York's legendary Madison Square Garden followed three months later, on December 14, 1920. His opponent was Bill (KO) Brennan, an unpolished fringe contender who had put together a string of victories against no-hope opponents en route to securing a title shot. Rumors existed of Bill's connections to organized crime, including Chicago kingpin Al Capone. Rumors were just as prevalent that Dempsey was not taking Brennan seriously and that his training consisted more of women and booze than it did roadwork and heavy bags. Whatever the cause, Dempsey proved surprisingly vulnerable to Brennan's powers. In the second round, Dempsey was rocked by an uppercut to the jaw. Brennan failed to follow up on the advantage however and the champion survived the round. The rest of the fight was a competitive slugfest, with Dempsey digging into Brennan's body and Brennan landing hard shots to Dempsey's head. It was, said the New York Times, "one of the most vicious and closely-contested fights in history." In the twelfth, a right-left combination from the champion dropped Brennan for the count.
Trial of the Century/Battle of the Century
By this time, controversy began to surround the champion. During his early title reign, Dempsey was not a generally liked figure. His fighting style brought in crowds, but many regarded him as immoral, thuggish and even cowardly as a man. The public considered Miske and Brennan to be push-overs for Dempsey, and they demanded to see him in with a top flight fighter. Worse yet, information had surfaced that Dempsey had dodged the draft for the First World War, which had only just ended. His estranged wife, a prostitute, had publicly brought charges against him of neglect. Dempsey avoided a conviction for draft evasion by proving that he was the sole support for his large family back in Colorado, which precluded his eligibility for conscription. The divorce proceedings with Maxine Cates, meanwhile turned into what journalists of the times called the "Trial of the Century." In both the court and newspapers, Mrs. Dempsey spewed all sorts of scandalous intrigues about Dempsey's early years as a wandering hobo and frequenter of whorehouses. The public came to regard him as a far cry from the role model most expected from the heavyweight champion of the world. Eventually, the trial faded from the headlines and the Dempseys were divorced. Still, all of the mud-slinging had left a bad taste in the mouth of the public for Jack.
Tex Rickard, the most successful and innovative boxing promoter of the day, sought to cash in on the public's "bad guy" perception of Dempsey by pitting him against a classic "good guy" in Georges Carpentier, the reigning light heavyweight champion of the world, on July 2, 1921. In direct contrast to Dempsey, Carpentier was known as a perfect gentleman and an intelligent, scientific fighter. Women adored the handsome European, while Jack was regarded at the time as a scarred brute. Even more importantly, Carpentier was a twice decorated war veteran, having served his native France as an observation pilot during the First World War. Georges had not fought a top class man since his disqualification win over Gunboat Smith five years earlier in 1914 and had only fought five mediocre bouts since his comeback. Rickard's publicizing of the disparate personalities and backgrounds of these men produced a mania in the sports world. The press anxiously labeled the proposed match-up as the "Battle of the Century." A record crowd of 80,183 people packed into a specially built stadium in Jersey City, New Jersey and paid an unprecedented gate of nearly $1,800,000. It was boxing's first million dollar gate.
The fight itself, though dramatic, failed to live up to its ballyhoo. Dempsey was obviously the bigger man in the ring and his shots took their toll. Carpentier's response was initially to box and move, but he eventually settled down into trading shots with the champion. In the opening round, the Frenchman landed a hard right to Dempsey's head that clearly stunned the champion. Dempsey, after clearing his head, responded with a relentless body attack followed by a crisp left hook that broke Carpentier's nose. In the second, Georges went back to boxing and landed another terrific right, one that forced the dazed champion to take a rare backward step. Meanwhile, Carpentier stood frozen still, stunned himself by the pain of a thumb broken in two places. By the time he tried to force his advantage, Dempsey had recovered. With the challenger hurt and Dempsey determined not to have another frightening moment, the bout took a decided turn. No longer competitive, it became all Dempsey. He battered the European around the ring and put him face-down onto the canvas in the fourth with two consecutive hooks. Apparently unconscious at the start of the count, the brave challenger still made it to his feet by the count of nine. But Dempsey showed his terrific finishing ability by blasting him with another right hook that rendered Carpentier totally senseless. The challenger was not revived until long after the referee's count had concluded.
Gibbons & Firpo
The Carpentier fight made Jack Dempsey the richest athlete to that point in history. He was now a top-tier celebrity throughout the world and made friends among the rich and famous of Hollywood, journalism, literature, music and sports. In the meantime, he avoided prizefighting for two years. As the champion relaxed, a top contender emerged as potential challengers for his crown: Harry Wills. Wills was a fighter of supreme ability who had of late beaten Sam Langford, Ed (Gunboat) Smith and Fred Fulton. The press constantly hounded Dempsey over the issue of a bout with this latest sensation, but the only problem was that Wills was black. There had, to this point, been only one black heavyweight champion, Jack Johnson. Johnson's reign had been so controversial and shocking that many within the fight business had been determined that there would never been another "colored" man allowed within a fighting chance of the laurels. Among those were Doc Kearns and Tex Rickard, Dempsey's manager and promoter; they shot down any talk of a fight with Wills.
Dempsey's next title defense would be against Tommy Gibbons. Though his resume was somewhat less impressive than that of Wills, the talented and tough Gibbons was coming off three consecutive knockout wins and had been in the ring with the likes of Billy Miske, Harry Greb and Battling Levinsky.
The fight took place on July 4, 1923, in Shelby, Montana, which was a small town in northern Montana that had dreams of becoming an economic hub through tourism and a recent oil boom. Part of the overall plan was to stage a heavyweight title fight involving Dempsey. The town agreed to pay Kearns $300,000 in three separate installments – $100,000 when the contract was signed, $100,000 more 60 days before the fight and $100,000 a week before the fight. If the town missed a payment, the contract would be null and void and Team Dempsey would get to keep whatever they had been paid to that point. Eager to stage the fight, Shelby's officials immediately accepted the terms.
In retrospect, the deal was doomed from the start. Gibbons, the brother of onetime middleweight king Mike, was a credible but not compelling challenger and ticket sales were extremely slow. A small percentage of the crowd on fight day were paying customers because a multitude of locals rebelled against the high prices, overran the gatekeepers and saw the fight for free. Gibbons, a surprisingly narrow 11-to-5 underdog, was the crowd favorite but, as had been the case throughout this incident, Shelby's residents walked away disappointed and angry. Dempsey lacked his usual sharpness and power while Gibbons, who managed to cut Dempsey's eye in round two, slapped on repeated clinches and generally tried to neutralize the champion.
After 15 nondescript rounds, referee Jim Dougherty raised Dempsey's hand with no argument from Gibbons. Because Kearns had dibs on the first $300,000 of income—and because only $72,000 of the third installment was paid to Team Dempsey—Gibbons ended up fighting for free.
Fearing a mob scene, Kearns paid the local railroad $550 (including a $50 tip to the engineer) to get out of a town that was more battered and broken than the fighters.
Saying he wanted to remain more active, the champion next fought Luis Angel Firpo of Argentina. Firpo had recently knocked out former champion Jess Willard and had also toppled notables Bill Brennan and Charley Weinert. A tall, broad-shouldered fellow, Firpo was nonetheless unschooled in the finer points of boxing and considered out of his element against Dempsey. When the pair finally fought on September 14, 1923, at the Polo Grounds in New York City before 80,000 people, they clashed in one of the wildest, most celebrated championship brawls of all-time.
In the first round, Dempsey floored his opponent seven times, just as he had done to Willard four years earlier. But the young and game Firpo was determined to prove his worth and managed to drop Dempsey to his knees with a right hand to the body early in the same round. Momentarily stunned but back on his feet in no time, Dempsey tore into the challenger without mercy. Later in the round, Firpo, after rising from his seventh knockdown, charged Dempsey, who did not have time to get away from the ropes. The challenger threw a wild, looping right hand that struck Dempsey in the head and lifted his feet from the canvas. Falling backward into the ropes, Dempsey's body stiffened to balance itself and, with a little shove from Firpo, did a flip clear out of the ring onto the writers' table at ringside. The referee began his count as the champion floundered helplessly. With help from the writers, he was able to get his bearings and pull himself up and into the ring by the count of four. Again the "Wild Bull of the Pampas" charged him and this time Dempsey clinched. Dempsey remained dazed for the remainder of the round. In his corner, Dempsey slowly regained his senses and came out for the second blazing away with punches; this time it was Firpo's turn to hold. Dempsey again sent him to the canvas, but the Argentinean made it back to his feet and came right back in. After some in-fighting, the champion threw a fast left-right combination of hooks that put the challenger down for the ninth time. He was still rolling around on the canvas when the referee counted him out.
Comeback & Later Life
Having successfully made his sixth defense of the championship, Dempsey again avoided the ring, this time for more than three years. He now reigned in the public consciousness as one of the most famous men living and lived accordingly. He bought a mansion in Hollywood and began a romantic relationship with one of the more popular actresses of the era, Estelle Taylor. He signed a lucrative contract to appear in movie serials for Universal Studios. He bought his mother, Celia, a twenty-two acre farm in Utah. He even underwent plastic surgery to reshape his battle-scarred features. In the meantime, he split with longtime manager, Doc Kearns, after an argument about Taylor. The press, anxious to see the champion return, satisfied itself with covering the exploits of the division's leading contenders, men like Tommy Gibbons, Harry Wills, Gene Tunney and Charley Weinert.
When Dempsey did finally return to the ring it would be against Tunney, the "Fighting Marine" from New York, a smart, tactical fighter who had once been the light heavyweight champion of America. Between 1922 and 1926, Tunney had proven himself a worthy challenger with wins over Weinert, Carpentier, Gibbons, Harry Greb and Johnny Risko. When the pair did battle on September 23, 1926, at Sesquicentennial Stadium in Philadelphia, Pennsylvania, a record 120,557 people braved a rainstorm in an open-air arena to see the return of the heavyweight champion. What they and Dempsey got was a lesson in boxing technique from Tunney. Rusty and overconfident, Dempsey failed to connect with any big shots to his challenger. Tunney, meanwhile, boxed brilliantly, constantly circling the ring to keep the champion confused and off balance. He used his swift jab to keep Dempsey at bay, while Jack did little more than hopelessly pursue. The result was one of the biggest upsets the sport had experienced, a unanimous decision in favor of the New York fighter, the new heavyweight champion of the world. It was Dempsey's first loss in eight years.
Suddenly, much of the public came to admire Dempsey. Though he had always been a draw because of his exciting fights, Dempsey had been regarded by many as a thug wallowing in immorality and brutality. He was the man audiences loved to hate. With the intellectual and strategic Tunney as the new champion, however, fans found themselves bored and missing Dempsey's ultra-masculine charisma and slugger's brawn.
When Dempsey began his comeback, in pursuit of a return match with Tunney, by facing rising contender and future champion Jack Sharkey on July 21, 1927, at Yankee Stadium, he was clearly the crowd favorite. Like Tunney, Boston's Sharkey was a technical boxer. He had recently won by disqualification over Harry Wills and was thus regarded as the most likely contender, outside of Dempsey himself, to garner a championship bout. The winner of the Dempsey-Sharkey showdown was promised a title shot against Tunney. Again, Dempsey fell behind on the scorecards. He was staggered in the first round and out-punched by the younger man's faster punches as the fight progressed. Dempsey did manage to give the Bostonian a few tense moments and, in round seven, he let loose with a vicious body attack that may or may not have strayed below the belt line. Sharkey, forgetting the rule to protect one's self at all times, immediately turned to the referee to complain of being fouled. As he did, Dempsey let loose with his trademark left hook, which hit Sharkey square in the jaw. Sharkey collapsed to his knees and then on his face, still clutching his groin, and was counted out. Sharkey complained to the press that he had been fouled, but he didn't get much sympathy, especially from Dempsey. "What was I going to do," Dempsey said afterward, "write him a letter of apology?" In earlier times, the crowd would have complained about Dempsey's dirty tactics. But now, with Tunney as champion, they were just happy to see Dempsey win the fight and earn himself a rematch with the new titleholder.
On September 22, 1927, 364 days after their initial encounter, Dempsey challenged Tunney at Soldiers Field in Chicago, Illinois. The 104,943 people who turned out for the rematch paid receipts of $2,658,660, the highest gate for any sporting event yet and a record that would stand for more than a quarter century. The fight itself appeared to be a replay of the first in the beginning, with Tunney backing away and boxing and Dempsey pursuing without throwing punches. In the seventh, though, Dempsey landed a series of blows on the champion, who was pinned with his back against the ropes. Gene collapsed into the ropes and slowly slid down to the canvas. The excited Dempsey, forgetting the recently passed rule in Illinois that a man scoring a knockdown must go to the farthest neutral corner, stood over his fallen foe. Referee Dave Barry would not begin counting over Tunney until Dempsey obeyed the rule, but the confused challenger hesitated, giving Tunney precious time to regain his senses. By the time Dempsey had found his way to a neutral corner and Barry returned to begin his count, the champion had recovered his senses and was sitting upright on the canvas, smartly taking the remaining time to rest. Barry, who was supposed to pick up at the timekeeper's count, instead mistakenly started his count from the beginning, at "one." As a result, Tunney was able to rest a full fourteen seconds before rising at the count of nine. When Barry called for the two to fight and Dempsey charged out of his corner, Tunney bounced and danced along the ropes, making sure to stay out of Jack's way for the remainder of the seventh. In the eighth, a combination of hooks from Tunney put the pursuing challenger on his knees. Jack was up before the referee could begin his count, but was being thoroughly outboxed. When the fight drew to a close after ten rounds, the result was a unanimous decision for Tunney.
On March 4, 1928, Jack Dempsey, the most successful athlete of the "Golden Age of Sports," announced his retirement from professional prizefighting. However, after losing $3 million in the 1929 stock market crash and divorcing Estelle Taylor in 1930, Dempsey needed some money. In 1931, he started a barnstorming tour of the United States and Canada. From August 1931 to September 1932, he boxed over 100 exhibitions. The crowds were big and the money was good. On February 18, 1931, Dempsey, who was considering a comeback, tested himself in an exhibition with heavyweight contender King Levinsky before a crowd of 23,322 people at Chicago Stadium. Levinsky clearly got the better of the action and Dempsey abandoned his plans for a comeback.
An increasingly popular figure in retirement, Dempsey often managed, promoted and advised younger boxers. He also acted as a referee in many popular boxing and wrestling matches. Dempsey officiated world titles fights involving future Hall of Fame inductees Barney Ross, Jimmy McLarnin, Sixto Escobar, Freddie Steele, Sammy Angott, Willie Pep and Ike Williams.
During World War II, Dempsey enlisted in the U.S. Coast Guard at age 47 after first being rejected by the Army because of his age. He served as a Lieutenant Commander and headed the physical fitness program at a Coast Guard base in New York. He then served in the Pacific, including Okinawa, by which time most of the fierce on the island had ended. Years later, referring to the slacker charge that had been leveled against him during World War I and his war time experiences in the Coast Guard, Dempsey said, "They said I was a slacker in World War I and a hero in World War II. They were wrong both times."
Dempsey opened a restaurant, Jack Dempsey's, in 1935. It was on Eighth Avenue in New York City across from the third Madison Square Garden. The restaurant remained opened for 39 years. Dempsey was one of the few former champions who had financial success after retiring from boxing.
Dempsey died of heart failure at age 87 in New York City on May 31, 1983.
In 1990, Dempsey became part of the inaugural class of inductees into the International Boxing Hall of Fame.
Record Queries
The following bouts have been attributed to Dempsey but are not confirmed, they maybe correct, possible fabrications, amateur bouts or belong to another Dempsey (there were other Dempseys boxing in the area at the time). 1915-04-01 Chief Gordon Salt Lake City, US W KO 6 1915-03-03 John Pierson Salt Lake City, US W KO 7 1915-02-02 Joe Lyons Salt Lake City, US W KO 9 1915-01-01 Jim Johnson Salt Lake City, US W KO 1 1914-11-02 Young Hancock Manhattan A.C., Salt Lake City, US - confirmed amateur bout in Salt Lake Evening Telegram
Million Dollar Gates
Dempsey participated in boxing's first five $1,000,000 gates.
"Championship" Fight
On July 24, 1922, Jack Dempsey met Jimmy Darcy at the Broadway Auditorium in Buffalo, in a fight the New York State Athletic Commission insisted be for the World Heavyweight Championship. However, the Buffalo Evening News reported: "Dempsey buffeted Jimmy Darcy around with BIG GLOVES for four rounds." It goes on to state that while the NYSAC commission sent word that they did not recognize exhibition bouts, the Buffalo Evening News goes on to state that the bout "went on for the whole four rounds to a decision, though nobody heard the official verdict." The Buffalo Courier stated: "Jack Dempsey defeated Jimmy Darcy four round exhibition, judges decision." In the accompanying article, it refers to the bout several times as an exhibition. Dempsey was dressed for an exhibition, wearing long blue tights, not trunks, and using pillow-sized gloves. And on July 7, just two weeks before this bout, Dempsey appeared in a four-round exhibition in Syracuse against the same Jimmy Darcy, who coincidentally was a sparring partner of Dempsey. The commission did say the day after the bout that the championship could have changed hands if Darcy won, but the evidence appears to indicate there was no legitimate chance of that happening. Thus, this fight has been deleted from the official record.
The Jack Dempsey Revue
After Dempsey defeated Gunboat Smith on December 30, 1918, he was ready to challenge Jess Willard for the World Heavyweight Championship. However, in the interim, Dempsey toured with a show called the "Jack Dempsey Revue," in which he offered $1,000 to any man who could last four rounds with him. The following bouts were part of that tour and were previously listed on BoxRec as part of Dempsey's professional record, but they have since been removed:
Jan. 15, 1919 - Curley McGuire KO 1 - Grand Theatre: Trenton, NJ
Jan. 20, 1919 - Big Jack Hickey KO 1 - Orpheum Theatre: Harrisburg, PA
Jan. 22, 1919 - Kid Harris KO 1 - Rajah Theatre: Reading, PA
Jan. 29, 1919 - Joe Allison (Kid Henry) KO 1 - Easton, PA
Feb. 14, 1919 - Eddie Cherry KO 1 - Mishler Theatre: Altoona, PA
April 2, 1919 - Tony Drake KO 1 - New Haven, CT (Dempsey weighed 197 to 257 for Drake and the fight lasted just 11 seconds)
Cyber Boxing Zone says the McGuire fight took place on January 16, the Kid Harris fight on January 23, and the Eddie Smith fight (not Eddie Cherry) on February 14. They also list all six fights as part of Dempsey's professional record.
Quotes
"A champion is someone who gets up when he can't."
"A champion owes everybody something. He can never pay back for all the help he got, for making him an idol."
"Nobody owes anybody a living, but everybody is entitled to a chance."
"By forgetting the past and by throwing myself into other interests, I forget to worry."
"Tall men come down to my height when I hit 'em in the body."
"I was a pretty good fighter. But it was the writers who made me great."
Professional Record
Championship Record
Notes
Newspaperman and author Damon Runyan nicknamed Dempsey the Manassa Mauler in 1916.
Newspapers of October 18, 1924, reported that Dempsey's first manager, Norman (Buck) Weaver, 42, was accidentally shot dead while duck hunting 19 miles southwest of Pueblo, Colorado. He and a companion, Howard Walker, 22, were sitting in separate boats when Walker laid down his shotgun to pick up the oars to row and the gun discharged. Weaver was hit in the face and died several hours later.
On July 3, 1927, John Dempsey, Jack's younger brother, murdered his estranged wife and then killed himself.
On December 8, 1938, the Boxing Writers Association of America awarded Dempsey the first-ever Edward J. Neil Trophy for being the boxer who had meant the most during the current year. The award was named in honor of the Associated Press sports writer and war correspondent who had been killed the year before in Spain.
Dempsey and his second wife, Estelle Taylor, appeared in a 1928 Broadway play titled The Big Fight.
Dempsey made many attempts, some better than others, to follow Tex Rickard as a boxing promoter but was often frozen out by the entrenched insiders, particularly in New York, and finally quit.
External Links