Joichiro Tatsuyoshi
Jump to navigation
Jump to search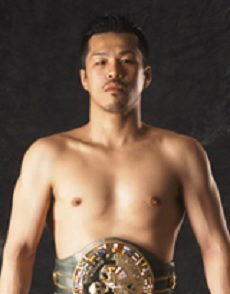 Name: Joichiro Tatsuyoshi
Hometown: Osaka, Osaka, Japan
Birthplace: Kurashiki, Okayama, Japan
Stance: Orthodox
Height: 165cm
Reach: 173cm
Pro Boxer: Record



Joichiro Tatsuyoshi was born on May 15, 1970 in Kurashiki, Okayama, Japan. It seemed that from the moment he was born, he destined be a fighter. His father(who named Joichiro after Joe Yabuki, the main character of the boxing anime & manga, Ashita no Joe) was a boxing fan and began training his son while still a toddler. After middle school, Tatsuyoshi moved to Osaka to begin his career, working part-time at restaurants as means to make money. At 17 he won the Japanese Amatuer Bantamweight Championship, becoming eligible for the 1988 Seoul Olympics. Unfortunately, Tatsuyoshi would lose in the qualifier and miss out on the Olympics in what would be his only amatuer loss. His record as an amatuer was 18-1-0.
Despite the loss, Joichiro was still viewed by the Japanese media as a prospect with real potential. Turning pro the following year with a 2 round stoppage of Sang Myon Chol of Korea, Joichiro claimed the national Japanese Bantamweight title from Shigeru Okabe in just his fourth professional fight. He would never defend that title as he vacated it to focus on the world title. One draw against Abraham Torres of Venezuela and a 10 round decision over Filipino fighter Rey Paciones later, he would earn his chance to win the title on September 19, 1991 against then WBC Bantamweight Champion, Greg Richardson.
Richardson had already been a professional for 9 years and was classed as one of the elite Bantamweights on the planet. A relatively recent champion, he had won the title 7 months earlier in February against Mexico's Raul Perez, and had already defended the title once against Victor Rabanales also of Mexico(And future opponent of Joichiro). Going into the fight, Tatsuyoshi had a record of 6-0-1 with 5 KOs, a very inexperienced record compared to Richardson's 29-4-0 with 4 KOs. The experience difference didn't matter at all in the fight as Tatsuyoshi battered Richardson, forcing him to quit at the end of the 10th round(a round where Tatsuyoshi hurt Richardson badly in the final seconds, and caused the arena to get so loud, the referee Tony Perez didn't hear the bell ringing to signal the end of the round)and crowning Joichiro Tatsuyoshi the new WBC Bantamweight Champion.
By becoming the new champion at 7-0-1, Joichiro had become the fastest Japanese fighter to win a world title. A record previously held by former WBA Light Flyweight Champion Yoko Gushiken. However while training for his first defense, he suffered a torn retina, forcing him out of commission. During his time off, Victor Rabanales(who was mentioned earlier)had become the WBC's Interim Champion by beating Korea's Yong-Hoon Lee. When Tatsuyoshi returned on September 17, 1992(nearly a year after winning the title), Rabanales would be his first opponent. In the early rounds, Joichiro looked like his usual self, landing good shots on Victor, but Rabanales would give as good as he got by banging Tatsuyoshi's body. By the middle rounds, Joichiro was starting to feel the effects of Victor's body attack. Knowing this, the Mexican started to turn up the heat, battering the Japanese fighter until finally the towel was thrown in to stop fight, making Tatsuyoshi lose not only his first fight, but his world title as well.
After the Rabanales bout, Tatsuyoshi vowed revenge, claiming it was his twin brother "Joujirou" who had lost the fight(?). following an easy tuneup fight, Joichiro would get his rematch with Victor on July 22, 1993, but not the way he wanted it. Between the 1st Rabanales vs Tatsuyoshi fight and the 2nd, Victor had actually lost the WBC title to Jung-Il Byun of Korea, so instead they would fight for the interim WBC title. After 12 rounds of an extremely close fight, Joichiro would get the revenge he vowed against Victor, winning a split-decision, and giving Tatsuyoshi a chance to win back his world title. But in September of the same year, it was discovered that Joichiro had another retina injury, this time in his left eye. Tatsuyoshi was forced to give up his interim title, and almost retire as well. Fortunately, Joichiro was able to recover and in July of 1994, he beat Josefino Suarez in Hawaii. Following the victory, the WBC reinstated him as interim champion.
During his absence, the WBC crown had changed hands, now belonging to another Japanese fighter:Yasuei Yakushiji. Yakushiji(just like Tatsuyoshi) had started boxing under the influence of his father. Turning pro in 1987, he had won the belt on December 23, 1993 by beating Jung-Il Byun. Now with Tatsuyoshi back, their fight was inevitable. With Joichiro being interim champion, and Yasuei being the full champion, the fight would be the first all-Japanese unification match, which generated much hype and attention from media and fans alike. Tatsuyoshi was a huge favorite to win(even though Yakushiji was the more experienced and accomplished fighter with 2 title defenses under his belt and a record of 22-2-1 compared to Tatsuyoshi's relatively still inexperienced record of 10-1-1), but he was unable to do enough to get the victory and instead lost by majority decision to Yakushiji, losing the interim title and suffering his 2nd loss.
Many felt that the lost to Yakushiji would bring an end to Tatsuyoshi's career, but Joichiro decided to continue, fighting 2 times in 1995, both fights in the USA. In the following year, Tatsuyoshi would get another shot to win the WBC title, but this time it would be different as he would move up a weight class to take on WBC Super Bantamweight Champion, Mexico's Daniel Zaragoza.
Zaragoza was a much accomplished fighter. A former Olympian, Zaragoza had been a pro since 1980. Zaragoza had first won the WBC Bantamweight Championship via DQ against Fred Jackson, only to lose it in his first defense against Colombia's Miguel Lora(who would in turn lose it to Raul Perez, who lost it Greg Richardson, who lost it to you know who). Following a loss to then IBF Bantamweight Champion Jeff Fenech of Australia, Zaragoza moved up to Super Bantamweight and won the vacant WBC title by beating former Bantamweight Champion and fellow Mexican, Carlos Zarate. It was in this weight class that Zaragoza started to shine. He made 5 successful defenses of the title from February of 1988 to April of 1990 before he lost it to California's Paul Banke(whom he had defeated just three fights prior)by 9th round TKO.
Banke lost the title to Pedro Ruben Decima of Argentina who then lost it to Japan's Kiyoshi Hatanaka. It was then that Zaragoza striked, beating Hatanaka by 12 round split decision to regain the title in 1991. After defending the belt 2 times(one against Paul Banke in their third match), he lost the title again, this time to Thierry Jacob of France. In his next two fights he fought the man who beat Jacob for the title, Tracy Harris Patterson, the adopted son of former 2-time Heavyweight Champ, Floyd Patterson. He fought to a draw with Patterson in the first match in 1992 , then lost to him by TKO in the second bout a year later. 2 years after that in 1995, he would yet again get another crack at WBC Super Bantamweight title, now held by Hector Acero-Sanchez born in the Dominican Republic, now fighting out of The Bronx, New York.
The first fight was ruled a draw, in a fight many people felt Zaragoza had won, so later that year on November 6th, Zaragoza and Sanchez fought again in the Inglewood Forum in Los Angeles. After the 12 rounds, Zaragoza had regained the belt via a split decision. At 36 years and 11 months, Zaragoza had become the oldest Super Bantamweight Champion in history. For his first defense of his reclaimed title, he would take on Tatsuyoshi in Yokohama. In a bloody war, Tatsuyoshi was stopped on cuts in the 11th. He fought Zaragoza again a year later in what was another bloody war, but again he would come up short, losing by unanimous decision.
Following the losses to Yakushiji and Zaragoza, many began to feel that Tatsuyoshi would never be a world champion again. While he was still a popular fighter in Japan, that popularity was starting to dwindle, and people felt that his best days were behind him, not helping was his hard training and his lack of defense, which seemed to age him rapidly, despite him only being in his mid-20s. However Tatsuyoshi continued on and he moved back down to Bantamweight, only to find a new landscape . While Tatsuyoshi was away, Yasuei Yakushiji had lost the title to Isrishman Wayne McCullough. McCullough made 2 successful title defenses, vacated the title, and moved up, due to having trouble making 118-pound Bantamweight limit. Now the title belonged to Sirimongkol Singwancha of Thailand, and it would be Singwancha who Tatsuyoshi would face for the title.
Joichiro, knowing a loss would be the end for him, trained like he had never trained before, intending to retire if he lost the fight. Despite the odds, Tatsuyoshi, with lighting fast hands and brutal body shots, dropped Singwancha twice, and in the 7th round, with Singwancha hurt and in trouble, the referee Richard Steele, stepped in to stop the fight. Finally...6 years after first winning the title from Greg Richardson, 5 years after losing it to Victor Rabanales, 3 years after attempting and losing to regain it form Yasuei Yakushiji, and 1 year and 7 months after trying to win the Super Bantamweight title from Daniel Zaragoza, Joichiro Tatsuyoshi was once again the WBC Bantamweight Champion.
The victory over Singwancha redeemed Tatsuyoshi in the eyes of the media and fans, who took back what they have said and support Joichiro again. In the span of almost a decade, Tatsuyoshi had gone from a rising prospect, to champion, to dwindling veteran, to 2-time champion(3 if you include the interim champion run). The question was could Tatsuyoshi hold on to the title for a longer time than he had originally? The answer was yes as 4 months later on March 8th, 1998, he would successfully defend it against Argentina's Jose Rafael Sosa, winning by unanimous decision. Following that, he then took on then undefeated and future champion Paulie Ayala, winning that fight by a 6 round technical decision after Tatsuyoshi was cut by headbutt. But all good things must come to an end, and the end of for Tatsuyoshi came in the form of Thailand's Veeraphol Sahaprom.
Originally a Muay Thai fighter, Sahaprom had turned to pro boxing in 1994, and in only his 4th pro fight, he became the WBA Bantamweight Champion by beating fellow Thai fighter Daorung Chuvatana by split decision, only to lose it in his first defense to former WBC Super Flyweight Champion Nana Yaw Konadu. Since the loss, Sahaprom had fought 16 times (one against former Light Flyweight Champion Rolando Pascua)in the span of just 3 years, winning them all, 11 by knockout. on December 29, 1998 he had a chance to fight for the world title again, this time for the WBC title and against Joichiro. In the 6th round Tatsuyoshi was knocked down, he bravely rose to his feet but was then battered Veeraphol until the referee jumped in to stop the fight, at which point Tatsuyoshi fell to the canvas again seemingly in slow motion, completely void of his senses. Tatsuyoshi had lost the title again. Shortly afterwards, Joichiro's father, the man who had led him to his life in boxing, passed away. Despite the loss of the fight,the title, and his father, Tatsuyoshi still persevered and a year later, on August 29th, 1999, he got an immediate rematch with Sahaprom. Joichiro put on a spirited effort, as if trying to re-win the title for his late father, but he was just being outclassed by Veeraphol, and in round 7 the referee, Richard Steele stopped the fight. Upon the stoppage, Tatsuyoshi(who didn't seem to have any problems before or during the fight)suddenly fainted. He would've hit the floor hadn't Richard Steele saved him.
The losses to Sahaprom should've been the end for Tatsuyoshi, and initially they were. Following the 2nd Sahaprom fight, Joichiro announced his retirement, seemingly accepting the fact that he wouldn't be a world champion again. Amazingly however, 3 years after his last fight on December 15th, 2002, Joichiro Tatsuyoshi returned to ring. his opponent would be Saen Sor Ploenchitof Thailand. Ploenchit was originally a flyweight, having been the WBA Flyweight Champion from February of 1994 to November 1996. Despite he had seen betters days at Flyweight, he had been on a 6 year unbeaten run, embracing a record of 44-1. Tatsuyoshi stopped him in the 6th round. 9 months later he beat Mexico's Julio Cesar Avila, but seemed to struggle doing it. Injury would plague him again as he injured his left knee. It was clear to everyone, even Joichiro himself that he was simply a shadow of his former self. Despite that, despite being injured, hurt, and washed-up, Tatsuyoshi refused to retire. So in 2008, 5 years after his last fight, Joichiro resurfaced in Thailand at the age of 38, winning one fight before losing again to a Thailand novice named Sakai Jockygym who had a record of 1-1. Jockygym would sadly die in the ring 7 months later at only 19.
Joichiro's last fight was in 2009. By that time most of the opponents who Tatsuyoshi had faced in the ring we're gone. Greg Richardson after the loss to Tatsuyoshi, moved down in an ill-fated attempt to beat WBC Super Flyweight Champion Sung Kil Moon, losing by majority decision. He would fight 4 more times before retiring in 1996 following a TKO loss to Mexico's Juan Carlos Ramirez with a record of 31-8 with 4 KOs. Following the 2nd Tatsuyoshi fight, Victor Rabanales would lose back-to-back against Wayne McCullough and Nana Yaw Konadu, knocked out future IBF Bantamweight and WBC Super Bantamweight Champion Rafael Marquez in his pro debut, and got a title shot against Sirimongkol Singwancha before retiring in 2003 with a record of 49-21 with 26 KOs. After losing the title to McCullough, Yasuei Yakushiji announced his retirement shortly afterwards, leaving behind a record of 24-3-1 with 16 KOs. He now works as an actor and boxing commentator.
In between the 2 Tatsuyoshi fights, Daniel Zaragoza defended his title 2 times against another Japanese fighter Tsuyoshi Harada and Wayne McCullough who moved up in weight. The 2nd Tatsuyoshi fight was the last hurrah for Zaragoza as a few months afterwards, he would lose his title again to future 4 division champion and fellow Mexican legend Erik Morales by 11th round knockout. He would retired afterwards at the age of 39 with a record of 55-8-3 with 28 KOs. He would later train Rafael Marquez. After the loss to Joichiro, Sirimongkol Singwancha, would fight an astounding 23 times, moving up 3 weight classes to Super Featherweight in the process, and became the WBC Super Featherweight Champion, becoming a 2-time, 2-division champ. He would defend it successfully once against former WBA Super Featherweight Champion, Korea's Yong-Soo Choi, before losing it to future IBF Lightweight Champion Jesus Chavez of Mexico. He still fights as of 2019 at Light Heavyweight.
One year after losing to Tatsuyoshi,Paulie Ayala would win the WBA Bantamweight Championship by beating Johnny Tapia via unanimous decision. He would defend it 3 times and have a non-title rematch with Tapia, before vacating and moving up in weight to fight former WBA Super Bantamweight Champion, Clarence (Bones) Adams, beating him twice. Afterwards he moved up again to Featherweight to take the man who beat Daniel Zaragoza, Erik Morales,to crown a new WBC Featherweight Champion, losing by unanimous decision. He would retire after losing to another Mexican legend, Marco Antonio Barrera. He now runs a program that helps people that have been diagnosed with Parkinson's Disease. After winning the WBC title, Veeraphol Sahaprom would successfully defend it 14 times(including the rematch with Tatsuyoshi and 4 times against future WBC Super Bantamweight Champion and Japanese legend Toshiaki Nishioka, beating him twice, and drawing with him twice), before losing it in 2005 to another Japanese legend, future 3-time, 3-weight champion, Hozumi Hasegawa. he would have a rematch with Hasegawa a year later, but was knocked out with a single right hook in the 9th round. He would fight 16 more times, going 15-1 before retiring in 2010, leaving with a record of 66-4-2 with 46 KOs.
As for Joichiro, while he hasn't said anything, it's safe to say that he fought for the last time on April 3rd, 2009. But his legacy still carries on. His son Juiki, turned pro in 2015 and as of 2019, holds a record of 12-0 (8 KOs). In the past few years, Tatsuyoshi has been a commentator for boxing matches. However while commentating, Joichiro has been showing signs of Dementia Pugilistica, such as slurred speech and forgetfulness, worrying his fans and supporters. Despite that, he's still popular with them, inspiring many young fans to take up boxing themselves. And even though he retired with an average record of 20-7-1 (14 KOs), his popularity and achievements were anything but average. Despite Japan producing other popular fighters at Bantamweight(Fighting Harada, Hozumi Hasegawa, Koki Kameda, Shinsuke Yamanaka, and Naoya Inoue), none of them will probably ever be as admired, or popular, as Joichiro Tatsuyoshi.